Didn't find products you were looking for?
Tell us about them! We might have these products in stock, but not on the website, or may be we are planning to restock them soon.
Testimonials:
I really appreciate my cooperation with Tom Butler. Very pleasant way of communication, professional help, immediate reaction and support. Thank you!
Iveta K - Feb 2021
We are a trusted supplier to thousands of UK clients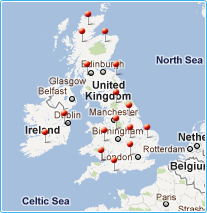 Steca controllers
20A dual battery solar charge controller / regulator for independent charging of two batteries (each either 12V or 24V) for solar panels up to 320W (12V) / 640W(24V)

30A 12V/24V powerful solar charge controller / regulator for charging batteries in off-grid solar power systems

20A 12V/24V powerful solar charge controller / regulator for charging batteries in off-grid solar power systems

10A 12V/24V powerful solar charge controller / regulator for charging batteries in off-grid solar power systems

Steca Remote meter / display PA_LCD with 5m cable suitable for Steca Solarix 20A dual battery solar charge controller

60A 12V/24/48V powerful MPPT solar charge controller / regulator for charging batteries in off-grid solar power systems

60A 12V/24/48V award winning powerful MPPT solar charge controller / regulator for charging batteries in off-grid solar power systems