TELL A FRIEND ABOUT THIS PRODUCT
Testimonials:
Excellent job. Avoid China and go to THIS Company!
Marijan (Zagreb, Croatia) - Jan 2017
We are a trusted supplier to thousands of UK clients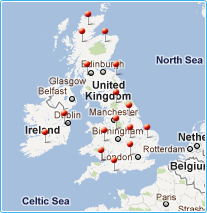 Steca controllers
Steca PA LCD1 remote meter / display with 5m cable for Steca Solarix 20A dual battery solar charge controller
Phone order?
Call our number
0203 150 1111
and quote the product code below
(have your card and delivery details ready)
Working hours Mon-Fri 9am-6pm
This high quality Steca remote display / monitor is designed for the Steca Solarix 20A dual battery solar charge controller for 12 / 24V battery systems (controller not included). This meter is perfect for remote monitoring of your solar system as it allows you to have full control over the charging process. This unit can display various charging parameters such as the voltage and current of the solar panels, batteries and loads. It can also record accumulated charge and discharge energy, as well as min / max voltage. This unit is German designed, engineered and manufacured to ensure the highest standards of quality and reliability.
Advanced monitoring functions:
By adding this remote meter to your Steca dual battery solar charge controller, you will also unlock a range of exclusive settings which give you far greater control over your solar system. With access to this vast range of charging parameters, you will be able to:
- Amend the battery type and capacity
- Select charging volts for different charging stages
- Specify the duration of each charging stage
- Set the charge ratio between batteries (e.g. changing from default 90%/10% to 50%/50%)
- Check the event log, self-testing, diagnostic and fault messages
- View and store daily/monthly/annual data logs for total input energy as well as min/max currents and voltages achieved during these times.
- Personalise the 'load' settings - e.g. set timers for lighting, fans, pumps
Personalised regulation of load work:
In addition to the timer functions available for load outputs, this remote meter also provides access to two unique load modes which are rarely found in other solar charge controllers:
- Generator control - When limited solar power is available and the battery voltage drops below a certain threshold, this remote meter will send a signal to kick-start the generator in order to continue charging the battery. Once the battery state of charge has risen to a sufficient level, the generator will be automatically switched off.
- Excess energy control - Once the battery state of charge reaches a threshold of your choosing, the load terminals will be switched on automically and any surplus energy will be diverted to a certain appliance, e.g electric water heating, fridge, fan etc, until the battery voltage falls below another defined threshold when the appliance will be switched off.
Please note: This remote meter is designed to be used solely with the Steca Solarix 2020-x2 20A dual battery solar charge controller, which is available to purchase separately here. This remote meter is not suitable for use with any other model. If you already have this controller, adding the remote meter is easy - just plug the cable supplied with the meter into the RJ45 socket of the controller.
Click on the Details and Specifications tab for more information about this product.
Specifications:
Self-consumption: 30mA
Operating temperature: -20C to +50C
Communication cable: RJ45, 5 metres included
USB socket (5V) for charging any USB-compatible device e.g mobile phone / tablet
Size: 19 x 9 x 3 cm
Weight: 400 g
This product is covered by a 5 year manufacturer warranty. For more information please refer to our Terms and Conditions.
The unit comes with a detailed user manual which explains connection and operations.
Please note:
- This unit is only suitable for use with the Steca Solarix 2020-x2 20A dual battery solar charge controller. It is not suitable for any other dual battery solar charge controller or any other Steca model.
- This item can be either flush mounted, surface mounted, or used as a handheld device. For flush mounting, a recess is required in the mounting wall / surface.
If you need help with installation or have any technical questions we can provide FREE support - please contact us by email or phone (see Contact Us page for more information).