Didn't find products you were looking for?
Tell us about them! We might have these products in stock, but not on the website, or may be we are planning to restock them soon.
Testimonials:
Excellent seller. Incredibly happy. Ridiculously prompt and I was kept informed
Chris (Sandy, Bedfordshire, UK) - Dec 2014
We are a trusted supplier to thousands of UK clients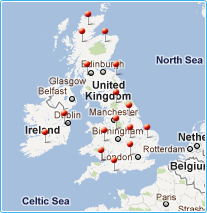 Terms and conditions (including returns and refunds)
Payment
We accept payments by all major debit and credit cards (Visa, Mastercard, American Express) either electronically when you complete your order on our website and enter card details, by phone or using our dedicated mail order form. All payments by credit or debit cards will be processed by our payment services provider Sage Pay.
We can also accept payments by Pay Pal, direct bank transfers and cheques. If you prefer one of these payment methods please contact us by email info@photonicuniverse.com for details.
For security reasons, details of debit or credit cards are never stored in our systems.
Packaging
We take great care when packaging items. We use bubble wrap, polystyrene or robust cardboard to protect them from damage in transit. For special fragile items we attach a red sticker "Fragile" to make sure they are handled with care while in transit.
Delivery
We aim to dispatch all products within 2 business days after receipt of your complete order and payment. Small items with weight below 2kg will be dispatched by Royal Mail (1st class in the UK, Airmail small packets to other countries) or a courier, larger items will be dispatched by one of the internationally recognised couriers. Most items are delivered in the UK within 1-2 working days after dispatch, delivery to other countries can take 3-5 working days.
Returns and refunds
If you change your mind in the first 14 days after receipt of the item you can return it to us, provided it has not been used and it is in the same condition, and we will issue a full refund of your payment upon receipt of the item back from you. To be eligible for a refund, you need to notify us via email / phone within 14 days of receipt that you intend to return the item, in order to receive the return address / return authorisation and send the item back within further 14 days at your cost. Please do ensure we receive the item in the same brand new condition, unused, otherwise it might not be eligible for a full refund
Damage in transit
In an unlikely event when your product is damaged in transit please contact us immediately by email or phone for further instructions within 14 days after receipt of the item. Please note we can not accept any claims for damage after 14 days.
Warranty
Electrical equipment such as solar charge controllers and inverters have 1 year warranty, unless stated otherwise in our product description. Warranty for our own "Photonic Universe" branded products is provided by Photonic Universe Ltd. If we find any defects in our own products within the warranty period, we will repair or replace such products at our discretion free of charge. Warranty for other products is provided by the product manufacturer and terms and conditions of this warranty might be different from our terms and conditions. Full terms and conditions of the warranty can normally be found in the product manual.
Photonic Universe solar panels are covered by 1 year workmanship warranty in relation to assembly, materials and accessories (connection, cables, diodes, frame etc). In addition, there's a separate performance warranty on solar cells provided by solar cells manufacturers. Most manufacturers of solar cells we use for our solar panels provide the standard industry warranty, which is that solar cells are guaranteed to produce at least 90% of nominal power in 10 years and 80% of nominal power in 25 years.
If you suspect a product defect within the warranty period, please contact us by phone or email with a detailed description of the problem. If the problem cannot be solved remotely and an examination is required, you will be asked to send the item back to us for testing at your cost. If we are involved into repair / replacement of the product and the problem is covered by the warranty, we will return the repaired / replaced item to you at our cost. If the item you sent to us under warranty is in good working condition and no defect is found, it will incur a test service charge and the shipping cost to send the item back to you.
Communication
We always communicate with our customers in a polite, ethical and professional manner. We expect the same from our customers when they communicate with us over the phone, electronically (email) or in writing. While we understand that certain situations, such as a courier's failure to deliver on time or a problem with our product may be stressful, it is also our duty to protect the safety and well-being of our staff. For this reason our company has an Unacceptable Communication Policy which is set out below.
Our staff will not tolerate communication from customers which we consider unacceptable, such as:
threatening, coercive or intimidating approach to resolve a problem
aggressive, abusive or offensive language or behaviour
unreasonable persistency, urgency or unjustified demands
If a customer communicates with us in an unacceptable manner, the first action of our staff will be to give a warning and ask the customer to change their approach or language accordingly. If the customer continues in this unacceptable manner, employees will terminate the conversation (if over the phone) or not reply to any further written or electronic (email) communication.
If the behaviour of the customer is extreme and it threatens the immediate safety and well-being of our staff, we will be forced to terminate communications without warning and if required, proceed by involving the police or taking legal action.