Didn't find products you were looking for?
Tell us about them! We might have these products in stock, but not on the website, or may be we are planning to restock them soon.
Testimonials:
Wow. Ordered pm and delivered next morning! Exactly as described. 5*
Linda (Waterlooville, Hampshire, UK) - August 2015
We are a trusted supplier to thousands of UK clients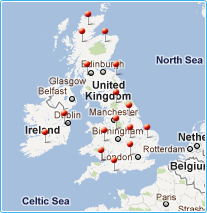 Contact us
If you have any questions about our products or services you can contact us via
Email
info@photonicuniverse.com
We aim to respond to 99% emails on the same day or the next working day.
Phone
+44 (0) 203 150 1111
Our phone line is open Mon-Fri 9am-6pm UK time (excluding public holidays). Sometimes our line is very busy - please leave a voice mail with your phone number or email us and we will get back to you asap.
Fax
+44 (0) 203 150 1212
You can send a fax to us any time - we will normally receive it and respond on the same or the next working day.
Post
You can also write to us:
Photonic Universe Ltd
TMS House, Cray Avenue
Orpington
Kent BR5 3QB
United Kingdom
Facebook
You can follow and contact us on Facebook - click here to see our Facebook page.
Twitter
You can also follow and contact us on Twitter - clike here to see our Twitter page.