Didn't find products you were looking for?
Tell us about them! We might have these products in stock, but not on the website, or may be we are planning to restock them soon.
Testimonials:
Excellent British product. Just the job for our caravan at shows & festivals
Alma (Dyffryn Ardudwy, Wales, UK) - July 2017
We are a trusted supplier to thousands of UK clients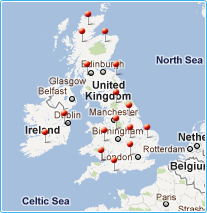 Career
Current open vacancies:
Product Advisor

We are looking for Product Advisor to join our experienced team of consultants and account managers. You will provide advice to our retail and trade clients and help them choose the right solar power solutions for their needs. This is an exciting opportunity for personal development as it involves a lot of learning; your career will progress in line with your contribution and ultimately you will become an expert in the products and benefits and be able to advise our customers on the right systems for the most complex renewable energy applications.
You will learn new technologies in the rapidly growing industry with excellent future potential. Comprehensive training and education, including a detailed introduction into company's products, will be provided at the start and you will receive a lot of support throughout your career.
The role is based in our office in Orpington, South East London (postcode BR5 3QB). Standard working hours 9am-6pm Mon-Fri.
Responsibilities and duties
Respond to customer inquiries and advise on a range of solar power products;
Issue quotations, accept orders and submit them for processing;
Follow up with existing leads, projects or quotations;
Deal with follow up customer requests via phone and email;
Provide customer service to existing customers;
Maintain the database of leads, projects and existing customers;
Take part in shows and exhibitions.
Requirements
A recent UK university degree;
Proactive, positive and open-minded attitude, ability to engage with customers in a professional manner and build relationship;
Excellent written and verbal communication skills. English as a native language and good foreign language skills would be an advantage;
Excellent computer skills (Microsoft Word, Excel, Outlook etc);
Leadership skills and aspiration for personal development;
Good numeracy skills.
Benefits
Attractive compensation package (fixed salary plus commission), fully paid annual holiday 28 days, sick pay allowance, pension, fast career progression and other benefits will be offered to a successful candidate. You will work in a friendly and very supportive team environment.
If you meet the above requirements and are interested in an exciting renewable energy sector, please apply with your CV by email career@photonicuniverse.com. If you need more details about the role please phone 020 3150 1111 Mon-Fri 9am-6pm.