Didn't find products you were looking for?
Tell us about them! We might have these products in stock, but not on the website, or may be we are planning to restock them soon.
Testimonials:
I have placed two orders with this company and made one emailed enquiry. Both ordered products were dispatched immediately and my query was responded to on the same day it was sent. Well done to all concerned
Michael - Dec 2021
We are a trusted supplier to thousands of UK clients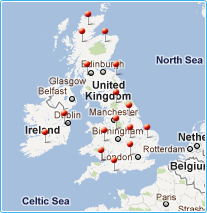 Privacy policy
This privacy policy sets out how we, Photonic Universe Ltd, collect, use and protect any information provided by you, the customer, through using our website, software (such as apps and computer programs) or by interacting with our team directly.
Our customers are important to us, which means that securing your personal data and information is a main priority. We are fully committed to protecting your data and also being transparent about how this data is used. The following privacy policy outlines the way in which we do this. You can be assured that any information we process will only be used in accordance with this statement.
How we collect your information

We collect information from you in the following ways:

• Provided directly by you: for example, when you buy products from us, speak to a member of our team over the phone or in person, email us, ask us a question on our website, download one of our apps, or publicly post a comment or review.

• Through your use of our website, apps or software: we use cookies to enable the shopping cart functionality on our website which is necessary for placing orders online. We might also use cookies and other technologies such as web analytics software to collect information about the way in which you use and navigate our website, to improve our services and advertising.
What information we collect

• Your contact and order details: this information is provided to us directly by you when making a sales enquiry or placing an order, and may include your name, email address, telephone number, company details, and billing /delivery addresses.

• Information you post publicly online: we may occasionally collect and use or republish any information that you post publicly online, when using our software or apps, or via social media. This type of information could include product reviews, photos of your installations or general company feedback.

• Website usage information (anonymous): we use web service providers such as Google to provide us with anonymous data regarding how you interact with our website. This includes data such as the type of device and browser you're using, your location, information about what site you originally came from, the pages you visited on our website and search terms used etc.
How we use your information

• To provide you with our products and services: we collect and store information such as your name, address and contact details to deliver products via our 3rd party couriers. We also use these details for the services we provide with each interaction or sale, such as pre-sales advice, lifetime technical support, returns or replacements and warranty claims.

• To send you communications relating to your transaction: we may use your contact information to send you order confirmation emails, requests for reviews of our products or services, or to provide post-sales follow up.

• To improve our products, services, and website: if you ever contact one of our representatives with any feedback, issues or recommendations, we'll keep a record of your communication to help us improve our products, services and website. We may also use this information for training purposes.
Sharing your information with third parties

Photonic Universe will never sell your personal data to any third party. We will never distribute any of your personal data to untrusted third parties either. We do, however, share relevant parts of your data with a few closely selected and trusted third parties who assist us in providing our products and services to you. Instances where we pass on your data to a third party include:
• To take payment for your order, the payment information you provide us with will be processed via secure third-party payment software. All payment information relating to your debit or credit card as well as your address details are taken via the third-party payment processor and is never collected or stored by Photonic Universe.

• To fulfil delivery of purchased products (or in some cases to arrange collections or replacements), we must pass on relevant parts of your personal information (name, delivery address, contact phone number / email etc) to our third-party warehouses, fulfilment centres and third-party couriers. In these cases, the third parties responsible for delivery may use your email address or phone number to provide you with tracking information or status updates relating to your scheduled delivery or collection.

• To efficiently store and access customer details (name, phone, email address, other details, email interactions) we may use third party software, such as Customer Relationship Management (CRM) software to securely store customer contact information.

• To process manufacturer warranty claims or raise issues regarding potentially faulty items, it is sometimes necessary for us to pass on relevant personal details to the third-party engineers and technical experts assisting us with claims processing, as well as the product manufacturer.

• Only if an installation service is requested by you, after completing your order with us, we will pass on your information to one of our trusted third-party installers in order to arrange an installation of your products. We will not do this unless you explicitly ask us to arrange an installation.
We will not share your information with third parties for any reason other than those stated above.
Storing your information

We hold your personal information for:

• As long as is required to provide products and services to you
• As long as is required to perform support related activities
• As long as you have an online account with us
Security

We are committed to ensuring that your information is safe at all times. In order to prevent unauthorised access or disclosure, we have put in place suitable physical, electronic and managerial procedures to safeguard and secure the information we collect online. If you would like to know more about the measures we take to protect your data, please feel free to contact us.
Links to other websites
Our website may contain links to other websites of interest. However, once you click on these links and leave our site, please be aware that we no longer have control over the security of other websites. Therefore, we cannot be responsible for the protection and privacy of any information which you provide whilst visiting such sites. These sites are not governed by this privacy statement. Please exercise caution and read through the privacy statement applicable to the website in question.
Your rights

When it comes to the way in which your personal data is used by us, there are a number of rights available to you. These usually depend on the original purpose of data collection (for example, some rights are restricted when we need to fulfil our contractual obligations to you) but in general they include:

• The right to access the personal data held by us
• The right to amend inaccurate personal data held by us
• The right to unsubscribe to marketing newsletters or communications
• The right to object to processing of your data
• The right to erasure of your data
• The right to lodge a complaint with a supervisory authority
If you would like to exercise any of the above rights or have any questions about the way in which we process your data, please contact us.
Policy updates

From time to time, we may update our Privacy Policy. Any changes will be reflected immediately on this webpage.

Last updated: 25 May 2018