TELL A FRIEND ABOUT THIS PRODUCT
Testimonials:
3rd purchase from you, the best solar products and customer service by far.
Trevor (Leighton Buzzard, Bedfordshire, UK) - April 2017
We are a trusted supplier to thousands of UK clients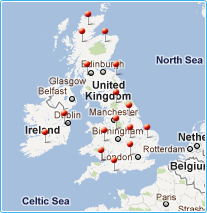 Steca controllers
Steca Tarom 60A MPPT solar controller (S-type), with two MPPT solar trackers / inputs for an off-grid solar system
Phone order?
Call our number
0203 150 1111
and quote the product code below
(have your card and delivery details ready)
Working hours Mon-Fri 9am-6pm
We are proud to offer this advanced controller from Steca Electronik; the global leader in off-grid solar electronics. All Steca controllers are able to control the entire energy flow in any power system, whilst ensuring optimal battery maintenance. German design, engineering and manufacturing ensure unrivalled standards of quality and efficiency.
This Steca Tarom S-Type 60A MPPT charge controller sets unprecedented standards in the field of Maximum Power Point trackers. With two independent MPP trackers and two inputs, this MPPT controller can easily handle two different solar module arrays of varying sizes.
The controller is designed to protect batteries whilst charging them, providing automatic cut off to prevent over-charging and deep discharge. It comes with an automatic electronic fuse and a full range of electronic protection functions, including protection against: overload, short circuit, high voltage, reverse polarity, high temperature, lightning and transient surges, reverse current at night.
Several of these Steca Tarom MPPT controllers can be linked in a single network to enable system expansion at a later date. Please note, in a large system with multiple Tarom MPPT controllers connected to the same battery bank, one controller must be the M-Type model, to enable effective communication amongst the S-type controllers and synchronisation of the charging process.
Other key features include:
Extremely high reliability, with an integrated self-test function and a long 5 year warranty
Unique MPP trackers that work constantly at high efficiency ratings of up to 99%
Compatible with all lead acid batteries, e.g. AGM / Gel / flooded.
Automatic data logging of energy values for 20 years and an easy to use LCD display
This solar charge controller is suitable for solar panels with a maximum power of up to 850W (12V battery bank), 1700W (24V battery bank) or 3400W (48V battery bank) and is also compatible with 36V or 60V batteries by activating advanced settings in the expert menu.
Click on the Details and Specifications tab for more information about this product.
Controller specifications:
Nominal battery voltage: 12V / 24V / 48V
Rated charging current: 60A
Solar input voltage up to 200V and power up to 3.4kW
3 pairs of terminals (two solar inputs, battery)
Graphical LCD display
Max. DC-DC efficiency: 99.4% (Ubatt=48 V; Uin=70 V; P=0.65*Pnom)
MPP efficiency: 99.9% (static), 99.8% (dynamic)
Minimum voltage to operate: 9.5V
Self-consumption: < 2W
Working temperature: -25°C to +50°C
Enclosure: IP31 (indoor)
Size: 294 x 335 x 130 mm
Weight: 6.3 kg
Mounting holes for ease of installation
This product is covered by a 5 year warranty. For more information please refer to our Terms and Conditions.
This product comes with an instruction manual (see the 'Documents' tab) which explains connections and operations.
If you need help with installation or have any technical questions we can provide FREE support - please contact us by email or phone (see Contact Us page for more information).