TELL A FRIEND ABOUT THIS PRODUCT
Testimonials:
100W back-contact panel getting good open voltage even in cloudy conditions !
Brian (Crawley, West Sussex, UK) - May 2017
We are a trusted supplier to thousands of UK clients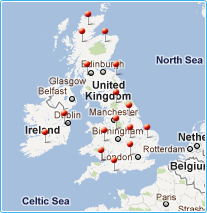 Mounting accessories
Waterproof black double cable entry gland (3-7mm) for motorhomes, caravans, campervans, boats and building installations
Phone order?
Call our number
0203 150 1111
and quote the product code below
(have your card and delivery details ready)
Working hours Mon-Fri 9am-6pm
Features and benefits:
Perfect way to get 3-7mm cables inside and keep the place completely waterproof
Ideal for mounting solar panels on motorhomes, campervans, caravans or boats
Can be used for other installations and structures such as buildings, garages, sheds and other roofs
Easily bonded to the roof using a suitable sealant
Sleek, compact design ensures subtle finish to your mounting surface
Fits all Photonic Universe solar panels from 40W upwards.
This black double cable entry gland is perfect for feeding cables through to the inside of a vehicle/ boat / building and ensuring a completely watertight installation. It is ideal for mounting solar panels on vehicles and boats, as well as other installations on buildings, garages, sheds etc.
The compact and lightweight design of this curved entry gland allows for discreet, aesthetically pleasing mounting of your solar panels, and is ideal for applications where the entry gland is clearly visible e.g. on a boat deck.
This cable entry gland is suitable for any cable with a diameter of 3-7 mm. Please note this item is suitable for double cable entry only. For single cable entry, we have a single entry gland for 3-7 mm or for larger cables of 6-12 mm then our other double cable entry gland can be adapted for single entry.
Click on the Details and Specification tabs for more information.
Specifications:
Material: plastic
Colour: black
Cable hole diameter: 3-7mm (adjustable)
Size: 11 x 9 x 4 cm
Weight: 50g
This cable gland can be easily fixed to the roof / wall with a suitable sealant or adhesive (not included).