TELL A FRIEND ABOUT THIS PRODUCT
Testimonials:
If you're on the fence about buying, don't be. They are fantastic.
John (Accrington, Lancashire, UK) - April 2017
We are a trusted supplier to thousands of UK clients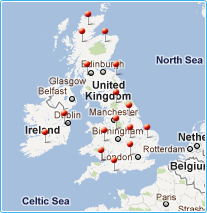 Mounting accessories
Set of 4 solar panel brackets for motorhomes, caravans, boats or roof mounting
Phone order?
Call our number
0203 150 1111
and quote the product code below
(have your card and delivery details ready)
Working hours Mon-Fri 9am-6pm
This set includes:
4 brackets made of aluminium alloy
4 x 20mm M8 bolts
8 x 30mm M8 bolts
12 x M8 nuts
12 x plain washers
12 x spring washers
Key features:
Comes complete with 4 brackets and all bolts, nuts and washers required for mounting
Specially designed profile and double bolts at the bottom prevent brackets from rotating and becoming loose
Perfect fit for suitable Photonic Universe solar panels and most other solar panels
Can be used for fixing solar panels to the roofs of motorhomes, caravans, camper vans, boats or other vehicles
Made of aluminium alloy for strong and secure fitting of your solar panels
Please note:
The bolts supplied with these brackets are suitable for solar panels with a depth of 30mm or greater, and with mounting holes with a diameter of 8mm or greater.
For solar panels of an insufficient depth, the user can either source alternative bolts or shorten those supplied with the brackets.
Click on the Installation tab for more information
Installation is easy - fix the brackets to your solar panel using the short 20mm bolts, then put the solar panel with brackets on to the flat mounting surface and fix using the long 30mm bolts (see pictures of the brackets fixed to a solar panel).
Please note that these brackets are not suitable for Photonic Universe solar panels smaller than 40W.