TELL A FRIEND ABOUT THIS PRODUCT
Testimonials:
As described and looks like it will stand the test of time!
Peta (Dunstable, Bedfordshire, UK) - Oct 2017
We are a trusted supplier to thousands of UK clients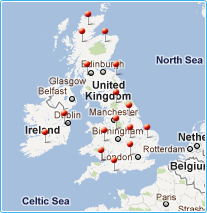 Mounting accessories
Solar panel mounting set with heavy duty corner brackets, side brackets and a waterproof cable gland
Phone order?
Call our number
0203 150 1111
and quote the product code below
(have your card and delivery details ready)
Working hours Mon-Fri 9am-6pm
This is a solar panel mounting set for fixing solar panels to vehicles, boats and other flat roofs and surfaces.
The set includes:
4 heavy duty plastic corner brackets
2 heavy duty side brackets
A waterproof double entry cable gland
This set is ideal for all Photonic Universe rigid frame solar panels and is suitable for most other rigid frame solar panels with a round profile cable.
Click on the Details and Specifications tab for more information.
Specifications:
- Material: plastic
- Colour: white
- Cable diameter for the cable gland: 3-7mm
- Dimensions:
Corner brackets (each): 15 x 15 x 6.5 cm
Side brackets (each): 18 x 9 x 6.5 cm
Cable gland: 11 x 9 x 4 cm
Combined weight: 2.7kg
Installation is easy: holes should be drilled in each bracket in the designated places, then the brackets should be placed on the solar panel frame and the corresponding holes marked and then drilled (smaller diameter) in the solar panel frame. Then the brackets should be fixed to the solar panel using self-tapping screws (not included). Finally, while the brackets are fixed to the solar panel they should be bonded to the roof using an appropriate sealant or adhesive (not included). Any extension cables can then be fed through the cable entry gland which should then be bonded to the roof in the same way as the brackets.