TELL A FRIEND ABOUT THIS PRODUCT
Testimonials:
Very responsive. Excellent service.
Bernard P - June 2020
We are a trusted supplier to thousands of UK clients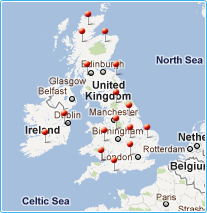 Mounting accessories
Set of 2 x 67cm aluminium solar panel mounting brackets/spoilers for fitting solar panels to motorhomes, caravans, boats or roofs
Phone order?
Call our number
0203 150 1111
and quote the product code below
(have your card and delivery details ready)
Working hours Mon-Fri 9am-6pm
Key features:
Ideal for bonding to the roof - no need for drilling
Minimum wind drag and a good looking installation
Great for motorhomes, campervans, caravans, vans and boats, but can also be used on other flat roofs
Enhanced security - once installed, the solar panel would not be easy to remove
Perfect for rigid frame solar panels with 67cm width
Specifications:
Material: aluminium
Size (1 bracket): 67x10.5x6.2 cm
Weight: (pair of brackets): 2kg