TELL A FRIEND ABOUT THIS PRODUCT
Testimonials:
Does what it says in the ad. Better quality than a lot of other folding kits I have tried.
Luigi (Nuneaton, Warwickshire, UK) - June 2016
We are a trusted supplier to thousands of UK clients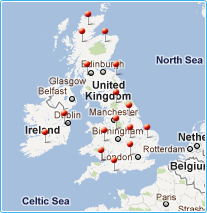 Morningstar controllers
Morningstar TriStar 60A MPPT 600V charge controller (with DC transfer switch) for off-grid or existing on-grid solar applications
Phone order?
Call our number
0203 150 1111
and quote the product code below
(have your card and delivery details ready)
Working hours Mon-Fri 9am-6pm
As an official distribution partner of Morningstar products across the globe, we are proud to offer solar charge controllers from this world-leading supplier. Innovative design from years of dedicated research and superior build quality enable these top-of-the-range solar charge controllers to extend battery capacity and life, maximise energy production, and consistently achieve high performance standards.
This high voltage Morningstar TriStarTM 60A MPPT 600V charge controller with DC transfer switch is suitable for large off-grid solar power systems with high input voltages, or retro-fitting existing grid-tie systems with a battery backup component. It uses TrakStar TechnologyTM, which provides the very best automatic power point tracking by sweeping the I-V curve faster than any other MPPT controller on the market, and maximising the energy harvest of the off-grid system. With 97.9% peak efficiency, low self-consumption and subsequently less power losses through the off-grid system, this MPPT controller guarantees an excellent return on investment.
Due to its high voltage capabilities, this unique controller can be used with new grid-tie PV installations or added to existing grid-tie PV systems, to allow storage of excess energy in a back-up battery bank. This can be achieved without changing the existing PV array configuration, and can even enable incremental adding of solar panels to an array with no string sizing issues and Voc voltages upto 525 Voc. This action allows fewer combined circuits and lower current for long wire runs from the array to the controller.
The DC transfer switch and enhanced wiring disconnect box allows 60A continuous battery current from your solar array to be stored in a battery bank or to be manually switched to the grid-tie inverter.
Other key features include:
High voltage capacity, with a maximum input voltage of 600V that reduces voltage drop and wire costs
Used in conjunction with new or existing grid-tie power systems to allow alternative battery storage
Extremely high reliability, with no cooling fans or moving parts and a robust thermal design for high operating temperatures
Incredibly high peak efficiency of 97.9% - an outstanding feat within the solar industry
First 600V PV controller to offer extensive communication capabilities with internet access for custom settings, data logging and remote monitoring
The controller is pre-set to protect 48V batteries whilst charging them, providing automatic cut off to prevent over-charging and deep discharge. It is also programmable to set for 24V, 36V and 60V battery banks.
It comes with a full range of electronic protection functions: overload, short circuit, high voltage, reverse polarity, high temperature, lightning and transient surges, reverse current at night.
This controller can work with sealed, gel and flooded batteries.
The maximum allowed input solar power for this controller is: 3200W (48V).
The controller can also be connected to the TriStar remote meter with 30m extension cable (sold separately) to view detailed charging parameters and remotely monitor your system.
Click on the Details and Specifications tab for more information about this product.
Controller specifications:
Nominal system voltage: 48V
Maximum output current: 60A
Solar input voltage up to 600V
3 pairs of terminals (input, battery, output), plus ports for computer connectivity and an optional remote meter
Multi-colour LEDs to indicate charging and battery status
Temperature sensor for automatic compensation (-5mV/C/cell) operating between -30°C and +80°C
Battery operating voltage range: 16 - 72V
Self-consumption: < 3.5W
Working temperature: -40°C to +45°C
Humidity: 100% non-condensing
Enclosure: IP20 (indoor and vented)
Size: 544 x 221 x 150 mm
Weight: 12.75 kg
Mounting holes for ease of installation
This product is covered by a 5 year manufacturer warranty. For more information please refer to our Terms and Conditions.
This product comes with an instruction manual (see the 'Documents' tab) which explains connections and operations.
Application diagrams are available to view, which show common installations for this product, such as long wire, battery backup or hybrid applications can be viewed in .
If you need help with installation or have any technical questions we can provide FREE support - please contact us by email or phone (see Contact Us page for more information).