TELL A FRIEND ABOUT THIS PRODUCT
Testimonials:
Next day delivery and an excellent inverter, very pleased. Thank you .
E Sutton (Lincolnshire, UK) - Oct 2017
We are a trusted supplier to thousands of UK clients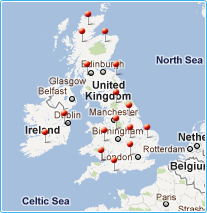 Morningstar controllers
Morningstar TriStar remote LCD digital meter, for all TriStar solar charge controllers
Phone order?
Call our number
0203 150 1111
and quote the product code below
(have your card and delivery details ready)
Working hours Mon-Fri 9am-6pm
As an official distribution partner of Morningstar products across the globe, we are proud to offer solar charge controllers and accessories from this world-leading supplier. Innovative design from years of dedicated research and superior build quality enable these top-of-the-range solar charge controllers to extend battery capacity and life, maximise energy production, and consistently achieve high performance standards.
This high quality advanced digital remote meter is suitable for all Morningstar TriStar series of solar charge controller (TS-series, TS-MPPT series and TS-MPPT-60-600V series - see Specifications tab for more details).
It is perfect for caravans, motorhomes, boats or other systems that have inaccessible batteries and require remote monitoring and viewing of their solar power system, as the remote meter comes with 30m of cable that simply plugs into the RJ-11 port on your TriStar controller. This remote meter can be purchased with any TriStar controller, or added as an upgrade at anytime.
Other key features include:
Extremely high reliability, with a long 5 year warranty
Easy to install and use, with only four directional pushbuttons for smooth navigation through the display screens
Backlit LCD display that can show individual controller data, or aggregate system data with upto 15 TriStar controllers (controllers must be linked through a Morningstar MeterHub sold separately)
Multi-language option with information shown in English, French, German, Portuguese or Spanish.
The remote meter can display various charging parameters such as battery voltages, charge priority, state of charge of batteries etc. The large numerical display and buttons allow easy navigation through the meter menus and a quick point of reference for your solar power system.
Click on the Details and Specifications tab for more information about this product.
Specifications:
Suitable for all TriStar controllers:
Self-consumption: < 0.5W (42.5 mA with backlight on)
Operating temperature: -40C to +60C
RJ-11 (6pin) connection point and 30m cable
Wall mounting plate with mounting holes included
Size: 116 x 116 mm
Weight: 180 g (without cable)
This product is covered by a 5 year manufacturer warranty. For more information please refer to our Terms and Conditions.
This product is supplied with a detailed instruction manual (see the 'Documents' tab) which explains connections and operations.
If you need help with installation or have any technical questions we can provide FREE support - please contact us by email or phone (see Contact Us page for more information).