TELL A FRIEND ABOUT THIS PRODUCT
Testimonials:
Excellent in every way from product, service and delivery. Cannot fault them A++
John (Manchester, UK) - Feb 2017
We are a trusted supplier to thousands of UK clients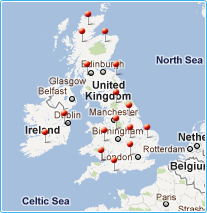 Low frequency off-grid inverters
6000W 48V low frequency pure sine wave off-grid inverter (peak power 18000W)
Phone order?
Call our number
0203 150 1111
and quote the product code below
(have your card and delivery details ready)
Working hours Mon-Fri 9am-6pm
Photonic Universe are proud to offer this powerful 6000W 48V low-frequency, pure sine wave inverter with an in-built 35A battery charger, and a peak power level of 18000W.
What is an inverter?
An inverter is a device which converts battery output (DC, or direct current) into 230V AC mains electricity (alternating current). 230V AC is the type of electricity supplied by utility companies to run standard domestic appliances such as a TV, fridge, radio, lights or to charge a laptop / mobile phone etc. If you have a battery, connecting a power inverter will enable you to power household appliances in areas with no access to mains electricity; such as in a motorhome, caravan, boat, farm or any other remote location. Inverters are also perfect for off-grid and back up systems for accidental power cuts.
This is a pure sine wave type of inverter, which means that the 230V AC output harmonically follows a smooth sine wave and is almost identical to normal mains electricity. Pure sine wave output is far superior than square sine wave or modified sine wave output for running appliances. This is because:
- It is suitable for a broader range of appliances (for example, appliances with electric motors can not be powered by modified sine wave inverters)
- It is more efficient compared to modified sine wave inverters.
What is a low-frequency inverter?
Low-frequency inverters have a few advantages compared to higher frequency inverters; namely their peak power capacity and their reliability. Low-frequency inverters can operate at a peak power level of up to 300% of their nominal power level for several seconds, while high-frequency inverters can operate at 200% of nominal power for a fraction of a second. Low frequency inverters operate using transformers (as opposed to electronic components such as MOSFETs for high frequency inverters). This results in a stronger, sturdier inverter which is less prone to damage. If you would like to learn more about low frequency inverters, check out our article Introduction to low frequency inverters.
Key features include:
A fast built-in battery charger (with charging current options ranging from 7A to 35A) to charge your batteries from mains, with advanced 4-step progressive charging and several battery types to choose from. If required, the battery charger can be permanently switched off.
Option to select either DC or AC priority mode. In AC priority mode, if the inverter is connected to the mains, batteries will be constantly charged by mains power (until fully charged). Appliances will also be powered by mains by default. In DC priority mode, appliances will always be powered by the batteries, even if the mains input is connected. Once the battery charge drops below a certain threshold, mains input will automatically kick-in to charge batteries and power appliances.
Power saving mode which allows the inverter to work in "power on demand" standby mode by only generating power when load is connected (saves energy and battery power)
UPS (Uninterrupted Power Supply) system which provides constant power for your appliances when the inverter is working in AC (mains) mode and mains power supply shuts down (the inverter will automatically switch to the battery and your appliances will not switch off)
Bypass mode when the mains power is connected (in AC priority mode). In this mode, the AC mains input is automatically linked to AC output of the inverter, therefore bypassing the DC-to-AC energy converting circuits of the unit, increasing the efficiency and making the quality of the AC output the same as AC input.
Detailed LCD display which shows voltages, battery status, current operating mode and other information
Ability to accept input AC power from a generator (recommended nominal power of the generator is twice the rated power of the inverter)
Various settings allow the user to customise the inverter (output voltage, output frequency, input voltage thresholds, battery type and capacity)
The 6000W nominal power and 18000W peak power ratings mean that this inverter is suitable for all standard household appliances including kitchen appliances (such as a fridge, microwave, TV, power tools, vacuum cleaner, cooker, oven, dishwasher, washing machine, air conditioning unit etc).
This inverter also features important protection and safety features, such as overload, over-temperature, low battery and overcharge protection.
Click on the Details and Specifications tab for more information
Specifications:
Input: 48V DC
Output voltage: 208V / 220V / 230V / 240V (programmable in settings)
Output frequency: 50Hz / 60Hz / auto (programmable in settings)
Output wave: pure sine wave
Input voltage range: normal or wide (programmable in settings)
Battery bank type: sealed lead acid, gel, agm, calcium (programmable in settings)
Battery charging current options: 7A / 14A / 21A / 28A / 35A (programmable in settings)
Power rating: 6000W nominal, 18000W peak
Nominal inverter efficiency: 88%
Power saving mode
UPS and bypass mode
AC / DC priority mode
Minimum battery voltage: 40V
Low battery alert: 42V
Protection against: overload, overheat, low battery, overcharge
Overcharge protection voltage: 62.8V
Power Factor: 0.9-1.0
Operating temperature range: 0 - 40C
Weight: 40 kg
Size: 60.5 x 21.8 x 17.9 cm
This product is covered by a 1 year manufacturer warranty. For more information please refer to our Terms and Conditions.
This inverter comes with a detailed user manual (see Documents tab) which explains wiring, installation and operations.
Please note that this inverter has AC power screw terminals instead of mains power sockets, which means it can be connected to one or several AC mains power sockets, using suitable AC cables. In the UK, 3-pin UK type mains sockets can be used, and in Europe it can be connected to standard European mains sockets.
Also note that this inverter is not supplied with cables. Detailed recommendations for cable length and thickness are available in the user manual.
If you need help with installation or have any technical questions we can provide FREE support - please contact us by email or phone (see Contact Us page for more information).