Didn't find products you were looking for?
Tell us about them! We might have these products in stock, but not on the website, or may be we are planning to restock them soon.
Testimonials:
40W solar panel suitcase worked better than expected - completely charged our leisure battery in a few hours on a very overcast day.
Addie (Walton, Norfolk, UK) - Aug 2013
We are a trusted supplier to thousands of UK clients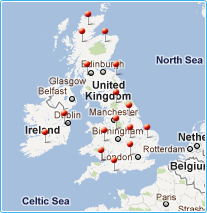 For partners
We are always interested in partnerships because we believe they create value and benefits for both parties. If you would like to partner with us, or you have an idea which you think is interesting, no matter whether it's big or small - please get in touch with us and we'll be happy to discuss potential opportunities with you.
You can also get in touch with us via our phone number UK 0203 150 1111 / int. +44 (0) 203 150 1111 (Mon-Fri 9am-6pm) though email might be preferable in case if you are sending any background information about your company or a link to your website.