Didn't find products you were looking for?
Tell us about them! We might have these products in stock, but not on the website, or may be we are planning to restock them soon.
Testimonials:
Had a problem with Controller. Dealt with very quickly. Great to deal with.
Willie B - Jun 21
We are a trusted supplier to thousands of UK clients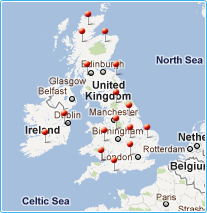 Online shop
400W 12V wind turbine with 5 blade construction. Can be used to supplement an existing solar system or as part of a standalone off-grid wind power system.

200Ah 12V Gel deep cycle battery for various applications

250A circuit breaker for DC systems to protect against over-current.

Creates a Wi-Fi network (50m radius) for your mobile phone to connect to the free Solar Station mobile app, in order to monitor and program your solar system.

Remote temperature sensor with 3m cable and connector suitable for all TR/PTR/VS/PU/DB series solar charge controllers offered by Photonic Universe

300W 12/24V solar charging kit which includes a 300W textured flexible solar panel, 20A MPPT solar charge controller with inbuilt LCD display, 5m solar cables with MC4 connectors and a 5m 6.0mm dual core battery cable fitted with a 20A fuse.

UPS battery back-up system for applications requiring a constant, uninterrupted power supply. Includes 6 x 5000W 48V hybrid inverters with zero-transfer time, 2 x 24kWh 500Ah battery banks and connection cables.

5000W 48V pure sine wave inverter with integrated 80A MPPT solar controller, 60A mains battery charger, inbuilt Bluetooth and a removable LCD display - ideal for off-grid applications or remote areas without access to a constant, uninterrupted power supply. No battery connection necessary.

Pair of waterproof MC4 connectors / plugs suitable for solar panels, extension cables or photovoltaic systems - ideal for outdoor applications

Victron 30A mains battery charger for safe unattended charging of a 12V battery from 220-240V AC mains. With inbuilt Bluetooth and a Lithium battery charging mode. Fitted with a UK 3-pin plug.