Didn't find products you were looking for?
Tell us about them! We might have these products in stock, but not on the website, or may be we are planning to restock them soon.
Testimonials:
There is nothing on this item that falls short of my expectation, even a functional protective bag and a spring loaded, fold flat carry handle, great!
Alan (Nuneaton, Warks, UK) - Nov, 2015
We are a trusted supplier to thousands of UK clients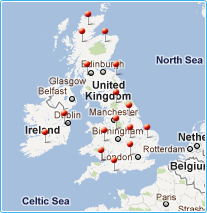 Solar Charge Controllers
10A dual battery solar charge regulator with LCD monitor for independent charging of two 12V or 24V batteries for solar panels up to 160W (12V batteries) / 320W (24V batteries)

High efficiency 50A MPPT solar charge controller / regulator with built in LCD display for solar panels up to 625W (12V battery) / 1250W (24V battery), 1875W (36V battery) / 2500W (48V battery) up to 150V. Supports parallel connection of identical controllers.

High efficiency 60A MPPT solar charge controller / regulator with built in LCD display for solar panels up to 750W (12V battery) / 1500W (24V battery), 2250W (36V battery) / 3000W (48V battery) up to 150V. Supports parallel connection of identical controllers.

Brand new high efficiency 10A 12V/24V Dual Battery MPPT solar charge controller / regulator for independent charging of two 12V or two 24V batteries or battery banks. For solar panels up to 130W (12V system) / 260W (24V system) up to 60V


High efficiency 80A MPPT solar charge controller / regulator with built in LCD display for solar panels up to 1000W (12V battery) / 2000W (24V battery), 3000W (36V battery) / 4000W (48V battery) up to 200V. Supports parallel connection of identical controllers.

Powerful 20A 12V/24V solar charge controller / regulator for use with solar panels up to 320W (12V batteries) / 640W (24V batteries)

Brand new high efficiency 20A 12V/24V Dual Battery MPPT solar charge controller / regulator for independent charging of two 12V or two 24V batteries or battery banks. For solar panels up to 260W (12V system) / 520W (24V system) up to 100V


20A dual battery solar charge regulator with LCD monitor for independent charging of two 12V or 24V batteries for solar panels up to 320W (12V batteries) / 640W (24V batteries)

High efficiency 100A MPPT solar charge controller / regulator with built in LCD display for solar panels up to 1250W (12V battery) / 2500W (24V battery)/ 3750W (36V battery) / 5000W (48V battery) up to 200V. Supports parallel connection of identical controllers.

Advanced 30A solar charge controller with LCD display and powerful 2.4A dual USB output, for use with solar panels up to 480W (12V batteries) / 960W (24V batteries) / 1440W (36V batteries) / 1920W (48V batteries)