TELL A FRIEND ABOUT THIS PRODUCT
Testimonials:
Great after sales service, dealt with simply and efficiently. Thank you
Peter P - Jul 2021
We are a trusted supplier to thousands of UK clients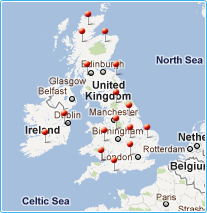 Mounting accessories
Plastic solar mounting brackets /corner mounts for campervan, caravan, motorhome, boat or any flat roofs and surfaces
Phone order?
Call our number
0203 150 1111
and quote the product code below
(have your card and delivery details ready)
Working hours Mon-Fri 9am-6pm
Features and benefits:
Ideal for bonding to the roof - no need for drilling
Strong and secure fitting for small and large solar panels
Great for motorhomes, campervans, caravans, lorries, buses, boats and yachts
Can also be used on flat roofs of buildings, sheds, garages or other flat surfaces
Suitable for all Photonic Universe solar panels and most other rigid-frame solar panels
This is a set of 4 plastic corner mounting brackets for fixing solar panels to vehicles, boats, roofs of buildings and other flat surfaces. They are ideal for all Photonic Universe solar panels and can be used with most other rigid-frame solar panels.
For large solar panels mounted on high-speed vehicles (120W or larger), an additional pair of our side mounting brackets is recommended for added security.
Click on the Details and Specifications tab for more information
Specifications:
Material: plastic
Colour: white
Size (1 bracket): 15x15x6.5cm
Weight: (4 brackets): 1.6kg
Installation is easy: holes should be drilled in each bracket, and corresponding holes in the solar panel frame on each side. The brackets should then be fixed to the solar panel using self-tapping screws (not included). Finally, the brackets can be bonded to the roof using an appropriate sealant or adhesive tape (not included). Sealant is recommended for stronger bonding. In order to feed solar cables from the outside to the inside of a vehicle / boat/ building, we recommend our waterproof double cable entry gland.