TELL A FRIEND ABOUT THIS PRODUCT
Testimonials:
Very good and intelligent technical assistance.
John C - Jun 2020
We are a trusted supplier to thousands of UK clients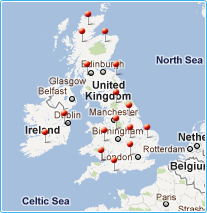 Complete Off-Grid Systems
820W 24V Complete Off-grid solar power system with 2 x 410W Sharp solar panels, 3kW hybrid inverter and 2 x 100Ah batteries
Phone order?
Call our number
0203 150 1111
and quote the product code below
(have your card and delivery details ready)
Working hours Mon-Fri 9am-6pm
This Photonic Universe 820W 24V Complete Off-grid Solar Power System is the perfect ready-to-use kit for off-grid applications requiring a reliable and constant source of power for household appliances or industrial equipment in areas without access to or without stable mains electricity. This kit can provide power to small/medium household or office appliances such as LED lighting, TV, radio, computer, printer or a fridge. This may vary significantly according to the location and season.
This complete off-grid kit has been expertly designed to maximise efficiency and output and therefore comes equipped with some of our most premium quality products; including two monocrystalline solar panels and a state-of-the-art Iconica hybrid power inverter - an intelligent combination of a high efficiency MPPT solar charge controller, pure sine wave inverter and smart mains battery charger in one single unit.
Kit includes:
2 x 410W monocrystalline Sharp solar panels, each with 2 x 1.25m solar cable and MC4 connectors
Iconica Hybrid 3000W 24V pure sine wave inverter
2 x 100AH 12V AGM deep cycle Photonic Universe leisure batteries
120A circuit breaker or fuse
A pair of 5m 4mm2

solar extension cables with MC4 connectors
A pair of 1m 35mm2 tinned copper battery cables
Battery linking cable
Loose ring terminals

2 x 410W Sharp Solar panels:
The two high quality 410W solar panels, from leading solar panel manufacturer Sharp which has over 60 years of experience with solar technology, feature the unique PERC technology with 10 busbars to extract more power from a smaller surface area, increasing the output of each panel without increasing the size. The Half-cut cell construction of the panels decreases internal losses, reduces risk of hotspots and improves performance in shaded conditions. Their robust design is IP68 (waterproof) rated, and tested for resistance against PID, salt mist, ammonia, heavy snow, dust and sand. This thorough testing ensures a long service life even in harsh marine or wilderness conditions. A pair of male / female MC4 connectors are crimped on the end of the cable for easy waterproof connection.

3000W 24V Iconica Hybrid Inverter:
This inverter intelligently combines the functions of a 3000W pure sine wave inverter, 40A MPPT solar charge controller and a 25A smart battery charger in one single unit:
1. 3000W 24V Pure sine wave inverter: Converts DC current from the solar panels into 230V AC mains electricity, to run various household appliances such as a TV, laptop, lighting, fans etc. Able to generate 3000VA of continuous power with a strong peak power handling capability of up to 6000VA (to start appliances with electric motors). This inverter is a pure sine wave type, which easily surpasses modified sine wave inverters in terms of efficiency and compatibility with a wider range of appliances.
2. Inbuilt 40A MPPT solar charge controller: The high efficiency MPPT controller regulates the input from the solar panels to the batteries or to load, with a full range of safety functions including protection against overcharge, overheating, reverse current etc. The controller operates at up to 98% efficiency to extract the maximum possible power from the solar array.
3. Enhanced 25A Smart battery charger: Designed to enable safe and efficient unattended charging of a battery from a mains power source or generator, with full overcharge protection and multiple charging stages.
Additional features: This model also features an Uninterrupted Power Supply (UPS), and can accept input from the solar panels, mains power/ a generator and the batteries - either from a single or combination of input sources.
The inverter is supplied with a PC connection cable and PC software CD for convenient viewing of important system information, and can also be connected to a mobile Wi-Fi monitoring module or Wi-Fi connection kit (purchased separately) to unlock access to email status updates for the inverter, remote system monitoring from any location and much more.

2 x Photonic Universe AGM Batteries:
Our AGM deep-cycle batteries are non-spillable, completely sealed and maintenance free - amongst the very safest batteries you can find. They have a much longer service life compared to standard wet-cell batteries due to lower degradation and corrosion inside the battery. AGM batteries hold charge very well and have a low self-discharge rate.
Additional items:
This kit also includes 1m positive and 1m negative 35mm2 tinned copper battery cables with loose ring terminals for connecting the inverter to the batteries, a 120A fuse or circuit breaker for use between the hybrid inverter and the batteries, 5m solar extension cable with MC4 connectors to connect to the existing 1m of solar cable fitted to the solar panels and battery linking cable to connect the batteries together.
Click on the Details and Specifications tab for more information about this kit.
Solar panel specifications (per solar panel):
Peak power: 410W
Maximum power voltage: 31.3V
Maximum power current: 13.1A
Open circuit voltage: 37.79V
Short circuit current: 13.81A
Power tolerance: 0/+5%
Dimensions: 1722 x 1134 x 35 mm
Weight: 21.8 kg
Mounting holes for ease of installation
2x 1.25m of high-quality single core solar cable
Male and female MC4 waterproof connectors
Hybrid inverter specifications:
Nominal battery voltage: 24V
Continuous power output: 3000W / 3000VA
Surge power: 6000VA
Output voltage: 230V AC
Output frequency: 50Hz /60 Hz
Output waveform: Pure sine wave
Maximum solar input power: 1000W
Maximum open circuit solar input voltage: 102V
Maximum solar charging current: 40A
MPPT operating voltage range: 30V – 80V
Maximum mains AC charging current: 25A
Maximum combined charging current: 60A
Peak efficiency: 93%
Operating temperature: -10C to 50C
Supplied with:
Size: 32 x 22.5 x 8.8 cm
Weight: 7 kg
Battery specifications (per battery):
Nominal voltage: 12V
Nominal capacity: 100Ah (10h rate) / 105Ah (20h rate)
Maximum charging current: 25A
Self-discharging rate: <3% per month
Cycle lifetime at 30% D.O.D.: 1000-1100
Pressure control: safety valve installed
Terminal type: F13 (bolts and washers included)
Operating temperature: from +10C to +40C
Size: 331 x 173 x 217 mm
Weight: 30.0 kg
Please note: due to our warehouse arrangements, the kit accessories may be shipped from a different warehouse to the solar panels, hybrid inverter and batteries, and therefore delivered in a separate package.
The panels are covered by a 15 year workmanship warranty provided by Sharp Electronics. In addition, solar cells are guaranteed to produce at least 97.5% of nominal power in the first year after purchase and less than 0.7% degradation of nominal power each year after until 25 years after purchase, for a minimim of 80.7%.
The batteries are covered by a 1 year repair or replacement warranty provided by Photonic Universe. In the unlikely event that a defect is found and confirmed during this period, we guarantee that we will repair or replace defective items (at our discretion). The hybrid inverter is covered by a 1 year manufacturer warranty. For more information please refer to our Terms and Conditions.
For installation advice, please click on the Installation tab.
A wiring diagram for this off-grid solar system is available to download in the 'Documents' tab. Please refer to this diagram during wiring and installation.
If you are unsure as to whether 3000W output power is sufficient for your appliances, please refer to our table of typical power consumption of domestic appliances.
If you need help with installation or have any technical questions we can provide FREE support - please contact us by email or phone (see Contact Us page for more information).