TELL A FRIEND ABOUT THIS PRODUCT
Testimonials:
just hooked up final setup tonite...will send pics when can.....love the setup...nice equipment!....
Daniel (Okinawa, Japan) - March 2015
We are a trusted supplier to thousands of UK clients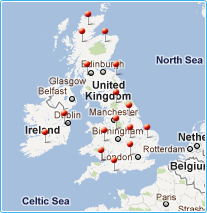 Lightweight folding solar kits
80W 12V lightweight folding solar charging kit with MPPT controller
Phone order?
Call our number
0203 150 1111
and quote the product code below
(have your card and delivery details ready)
Working hours Mon-Fri 9am-6pm
At Photonic Universe we always ensure that our products are of the highest quality. That's why we have developed this lightweight 80W folding solar charging kit - comprised of 2 x highly durable solar panels made from monocrystalline solar cells and reinforced with anodised aluminium and a strong ETFE surface, along with a high efficiency 10A MPPT solar charge controller fitted on the back of the kit to protect your batteries and extract the maximum available power from the solar panels.
This lightweight folding solar kit is designed to provide free power for charging 12V batteries, for example in vehicles and boats (motorhome, caravan, camper, narrow boat, yacht etc) or any other systems with a 12V battery or battery bank. It comes with everything required for battery charging and can be used immediately - simply connect it to your battery and find a well-lit area for the folding solar panels.
This folding solar charging kit includes:
Lightweight 40W + 40W aluminium-reinforced solar panels with a durable ETFE coating
High-efficiency waterproof 10A MPPT solar charge controller
Adjustable aluminium folding stand
5m battery cable with crocodile clips for ease of connection
Protective storage case
Installation manual
Key features:
Incredibly lightweight (only 4.5 kg) and easily transportable using the inbuilt handles and protective case.
Suitable for all weather conditions - the kit is 100% waterproof, even including the solar charge controller fitted on the back.
High efficiency 40W + 40W folding solar panels are made of high quality 5-busbar monocrystalline solar cells.
Advanced 10A MPPT solar charge controller extracts the maximum power from the solar panels whilst providing complete safety protection.
Adjustable aluminium folding stand for positioning the solar panels towards direct sunlight to maximise their output.
Sturdy storage case made with a layer of protective foam to prevent accidental damage to the solar kit.
Lightweight aluminium-reinforced solar panels
The high-efficiency solar cells perform exceptionally well in low light conditions and they produce a good amount of power simply in daylight, even when direct sunlight is not available.
These reinforced solar panels feature an embedded sheet of anodised aluminium fully encapsulated within the solar panels for added strength and resilience. In addition, the surface of solar panels is made of strong ETFE material which has a longer service life compared to standard lightweight solar panels. As a result, these particular solar panels are extremely hard-wearing and less prone to cracking , delamination and corrosion. The lightly textured coating of this panel creates an anti-reflective surface which allows the panel to absorb a far greater amount of light, thereby increasing efficiency.
High-efficiency MPPT solar charge controller
The waterproof, high-efficiency 10A MPPT solar charge controller mounted on the back of the solar kit constantly measures the battery's state of charge to select the most appropriate charging parameters. The Maximum Power Point Tracking (MPPT) functionality offers increased efficiency compared to standard PWM charge controllers, and ensures that the solar kit provides as much power as possible . The controller also provides important safety protection for the battery against overcharging, reverse current / polarity, overheating and overload.
This kit is suitable for 12V lead acid batteries.
Click on the Details and Specifications tab for more information about this product.
Solar panel specifications (both panels):
Peak power: 80W
Maximum power voltage: 18.3V
Maximum power current: 4.37A
Open circuit voltage: 22.6V
Short circuit current: 4.85A
Power allowance: +/- 3%
Dimensions: 56.5 x 51 x 5 cm (folded)
Weight: 4.5kg
This product is covered by a 1 year warranty (workmanship warranty on the solar panel is provided by Photonic Universe, solar charge controller warranty is provided by the solar controller manufacturer) For more information please refer to our Terms and Conditions.
This product comes with an instruction manual which explains connections and operations. Advanced users will also benefit from a separate detailed manual for the solar controller (see the Documents tab).
If you need help with installation or have any technical questions we can provide FREE support - please contact us by email or phone (see Contact Us page for more information).