TELL A FRIEND ABOUT THIS PRODUCT
Testimonials:
Really good quality product and a TOP service, wish all businesses were this good.
Daniel (Oldham, Bournemouth, UK) - Nov 2017
We are a trusted supplier to thousands of UK clients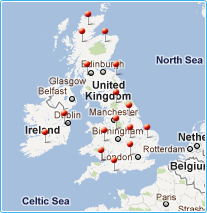 Connectors and plugs
Pair of 2-pin IP67 waterproof locking connectors 300V 20A
Phone order?
Call our number
0203 150 1111
and quote the product code below
(have your card and delivery details ready)
Working hours Mon-Fri 9am-6pm
These versatile 2-pin connectors have an IP67 protection rating and a UL94-V0 flame-resistant rating, making them highly durable and reliable in protecting the internal electric connections/wires in harsh environment applications, such as outdoor lighting systems, marine equipment, PV systems and outdoor security cameras/CCTV.
They feature an easy-to-use interlocking mechanism which does not require any special tools; this keeps the connection secure from accidentally unplugging, whilst allowing for fast connection/disconnection whenever necessary.
These connectors are rated for voltages and currents of up to 300V/20A. They are only suitable for dual-core round cables and can only accept cables with a 1.0-4.0mm2 gauge.
Please note: the internal ends of the connector pins are designed for soldering to the cable for the best performance.
Specifications:
Number of contacts/pins: 2
Withstanding voltage: 1500V
Protection level: IP67
Flame-resistant rating: UL94-V0
Cable gauge: 1.0 - 4.0mm2
Cable outer diameter: Φ4.5 - Φ11
Operating temperature: -40°C - 105°C
If you need help with installation or have any technical questions we can provide FREE support - please contact us by email or phone (see Contact Us page for more information).