TELL A FRIEND ABOUT THIS PRODUCT
Testimonials:
Great bit of kit charged up a battery in only a few hours. Fast delivery
Bob (Abingdon, Oxfordshire, UK) - July 2012
We are a trusted supplier to thousands of UK clients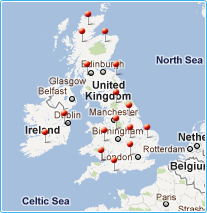 Morningstar controllers
Morningstar MeterHub HUB-1 for linking several TS and TS-MPPT controllers to one single remote meter
Phone order?
Call our number
0203 150 1111
and quote the product code below
(have your card and delivery details ready)
Working hours Mon-Fri 9am-6pm
As an official distribution partner of Morningstar products across the globe, we are proud to offer solar power equipment from this world-leading supplier. Innovative design from years of dedicated research and superior build quality enable these top-of-the-range products to achieve consistently high performance standards.
This high quality Morningstar MeterHub intelligently links multiple Morningstar controllers (up to 4 per hub) to enable communication between them. This is essential when more than one solar charge controller is connected to the same battery bank, such as in large solar systems where the capabilities of a single solar charge controller are not enough.
Linking multiple solar charge controllers through this MeterHub allows them to share a single TriStar TS-RM-2 remote meter (available to purchase separately). The remote meter can then display either single data for each controller, or aggregate data for the entire system. It can show various charging parameters such as battery voltages, charge priority, state of charge of batteries etc and serves as a quick point of reference for your solar power system.
This product also electrically isolates each solar charge controller, thereby preventing any damage to the network in the case of any grounding problems.
The MeterHub is compatible with any Morningstar TriStar, TriStar MPPT, SunSaver MPPT and Prostar (Gen 3) controllers, including the following:
A maximum of two remote meters may be connected to each MeterHub. A total of four MeterHubs may be linked together in one network.
This product also comes with 5 x 1m RJ-11 cables for connecting up to four solar charge controllers and one remote meter.
Click on the Details and Specifications tab for more information about this product.
MeterHub Specifications:
Self-consumption (per port): 8mA
Port connections: RJ-11, gold plated
Enclosure: Type 1, indoor rated
Minimum isolation (ports 1-4): 500V
Operating temperature: -40C - +60C
Storage temperature: -55C - +85C
Humidity: 100% Non-condensing
Includes four mounting screws and holes for ease of installation
Includes 5 x 1m RJ-11 cables
Dimensions: 135 x 108 x 37 mm
Weight: 190g
This product is covered by a 5 year warranty. For more information please refer to our Terms and Conditions.
This product comes with an instruction manual (see the 'Documents' tab for a download link) which explains connections and operations.
If you need help with installation or have any technical questions we can provide FREE support - please contact us by email or phone (see Contact Us page for more information).