TELL A FRIEND ABOUT THIS PRODUCT
Testimonials:
As described and looks like it will stand the test of time!
Peta (Dunstable, Bedfordshire, UK) - Oct 2017
We are a trusted supplier to thousands of UK clients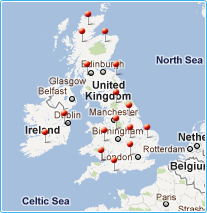 Morningstar controllers
Morningstar remote LCD meter RM-1 for SunSaver Duo controllers, SunSaver MPPT controllers and SureSine inverters
Phone order?
Call our number
0203 150 1111
and quote the product code below
(have your card and delivery details ready)
Working hours Mon-Fri 9am-6pm
As an official distribution partner of Morningstar products across the globe, we are proud to offer solar power equipment from this world-leading supplier. Innovative design from years of dedicated research and superior build quality enable these top-of-the-range products to achieve consistently high performance standards.
This high quality Morningstar remote meter is compatible with several Morningstar controllers and inverters, including:
SunSaver MPPT controller
SureSine inverter
The remote LCD display / meter can display various charging parameters such as solar panel current, battery voltages, amp-hours, temperature, logged data, settings, alarms and error reporting for complete system monitoring. Inbuilt LED lights also display battery level and operating state. Please note that available functions vary, depending on the controller / inverter connected. For full details, please see the user manual, located in the 'Documents' tab.
The large numerical display and buttons allow easy navigation through the back-lit meter menu and a quick point of reference for your solar power system.
This remote meter simply plugs in to the RJ-11 socket of your compatible Morningstar controller / inverter via the 10m cable provided. The meter can either be mounted straight onto a wall / surface using the mounting holes provided, or alternatively, the frame can be removed in order to flush mount the meter to achieve a level surface.
This unit has been specifically designed with power-loss minimisation in mind and has an extremely low self-consumption of 6mA (backlight off) and 15mA (backlight on).
Click on the Details and Specifications tab for more information about this product.
Remote Meter specifications:
Compatible with: SunSaver Duo controllers, SunSaver MPPT controllers, SureSine inverters
Connector type: RJ-11 (6 pin)
Cable length: 10m (May be extended to 30m)
Self-consumption: 6mA (backlight off) / 15mA (backlight on)
Minimum operating voltage: 8V
Operating temperature: –20 °C to +60 °C
Humidity: 100% non-condensing
Dimensions (Front side, without mounting frame): 9.5 x 9.5 cm
Dimensions (Back side, without mounting frame): 7.4 cm diameter, 2.8 cm depth. (Fits 7.6 cm / 3 in. round hole)
Dimensions (with mounting frame) : 11.4 x 11.4 x 3.5 cm
Weight: 135 g
The product is covered by 5 year warranty. For more information please refer to our Terms and Conditions.
The product comes with an instruction manual (see the 'Documents' tab for a download link) which explains connections and operations.
If you need help with installation or have any technical questions we can provide FREE support - please contact us by email or phone (see Contact Us page for more information).