TELL A FRIEND ABOUT THIS PRODUCT
Testimonials:
Great after sales service, dealt with simply and efficiently. Thank you
Peter P - Jul 2021
We are a trusted supplier to thousands of UK clients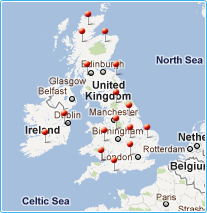 Morningstar controllers
Morningstar SunSaver Duo 25A 12V dual battery solar controller (with remote LCD meter) for caravans, motorhomes, boats and yachts
Phone order?
Call our number
0203 150 1111
and quote the product code below
(have your card and delivery details ready)
Working hours Mon-Fri 9am-6pm
As an official distribution partner of Morningstar products across the globe, we are proud to offer solar charge controllers from this world-leading supplier. Innovative design from years of dedicated research and superior build quality enable these top-of-the-range solar charge controllers to extend battery capacity and life, maximise energy production, and consistently achieve high performance standards.
This high quality Morningstar SunSaver Duo 25A 12V dual battery solar charge controller with LCD remote meter is well-recognised as the most powerful dual battery controller on the market and is suitable for various applications.
It is perfect for caravans, motorhomes, boats or other systems with 2 batteries (e.g. engine and leisure battery). You can set initial charging priority e.g. 90% engine battery and 10% leisure battery. When one of the batteries is fully charged the controller will automatically divert all power to the other battery.
Other key features of this controller include:
Extremely high reliability, with a long 5 year warranty and estimated 15 year life
Negative common ground - ideal for most motorhomes, boats and stationary applications
Epoxy encapsulation protects the controller against dust and high humidity
Four stage series PWM pulse charging increases your battery life
Specific settings, such as slow switching charging mode for sensitive loads to avoid interference
Lower system cost as the two battery charging eliminates the need for two separate solar power systems
Easy to install and use, with factory pre-sets, fully automatic operation and fault recovery
Can the unit work with only 1 battery? Yes, absolutely! The controller will determine automatically if there's only 1 battery connected and will pass 100% of charging current to this battery. You can add a second battery later.
This powerful 25A controller can work with solar panels up to 400W. It has many protection functions, such as stopping reverse current at night (from the battery to the solar panel), over charge, short circuit, reverse polarity etc. Other features include an LED status indicator, battery type selection (sealed, or flooded - two batteries can have different types) and a built-in temperature sensor that allows charging adjustment depending on the ambient temperature.
The controller comes with a remote LCD display / meter which is connected via 10m cable (included). The remote meter can display various charging parameters such as solar panel current, battery voltages, amp-hours, temperature etc. The large numerical display and buttons allow easy navigation through the meter menu and a quick point of reference for your solar power system.
Click on the Details and Specifications tab for more information about this product.
Controller specifications:
Rated charging current: 25A
Fully automated operation for 12V system
Maximum solar input power: 400W or 25A
Minimum battery voltage: 1V
3 pairs of terminals (battery 1, solar, battery 2)
LED indicator to show operational state and system errors
Temperature sensor for temperature compensation of charging (-30mV/C/12V)
Various protection features (over charge, short circuit, reverse polarity etc)
Self-consumption: 5.5mA at night, 10mA when charging, remote meter 6-15mA
Grounding: negative common ground
Cable lenth for remote meter: 10m
Working temperature: -40C to +45C
Terminals for wire up to 16mm2
Size of controller: 168.8 x 55.1 x 34.5 mm
Size of meter: 97 x 97 x 31 mm
Weight: controller 260g, meter 135g
Multiple mounting holes for ease of installation
The product is covered by 5 year warranty. For more information please refer to our Terms and Conditions.
The product comes with an instruction manual (see the 'Documents' tab for a download link) which explains connections and operations.
If you need help with installation or have any technical questions we can provide FREE support - please contact us by email or phone (see Contact Us page for more information).