TELL A FRIEND ABOUT THIS PRODUCT
Testimonials:
Fantastic communication, 2nd to none customer service! Will use again!!! A****
Richard (Gloucester, Gloucestershire, UK) - Jan 2015
We are a trusted supplier to thousands of UK clients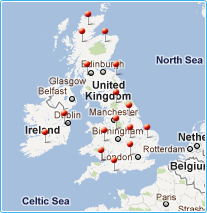 Steca inverters
Steca Solarix PA Link1 parallel switch box for connecting up to four Steca Solarix inverters
Phone order?
Call our number
0203 150 1111
and quote the product code below
(have your card and delivery details ready)
Working hours Mon-Fri 9am-6pm
We are a proud direct distributor of inverters and accessories from Steca Electronik, the leading global manufacturer in off-grid solar electronics. All Steca products are specifically designed with power loss minimisation in mind. With the development, production, and testing stages conducted in their German manufacturing facility and all products supported by a 5 year warranty, Steca products are truly "100% made in Germany" to the highest European quality standards.
This innovative parallel switch box allows connection of up to four identical Steca Solarix inverters in parallel on the AC output side (one 'master' inverter and up to three 'slave' inverters) to combine the maximum output power of all the inverters into one single AC output. This is a unique product which is not widely available amongst other brands of inverters, and enables the user to easily upgrade the power of the existing system by adding more inverters rather than replacing the existing inverter.
Maximum system efficiency:
This parallel switch box features various intelligent functions to minmise power consumption and maintain excellent levels of system efficiency. For example, if a low power appliance (e.g. a phone or tablet) is connected and the necessary power can be sourced from one inverter alone, the switch box will only engage one inverter (the 'master' inverter), keeping any additional inverters (the 'slave' inverters) turned off. This advanced communication technology between the inverters and the switch box allows your system to function optimally at all times.
Compatibility:
The Steca parallel switch box is designed for use with up to four of any of the Steca Solarix PI inverters, e.g. PI 500-12 / PI 1100-24 / PI 1500-48 which are available to purchase separately.
Please note that the switch box requires all connected inverters to be identical, i.e. they must have the same nominal power and battery voltage. The inverters should also belong to the same new generation of Steca products, i.e. it is not possible to connect the PI 550 (500W 12V previous generation) and PI 500-12 (500W 12V new generation) inverters to the same switch box.
Additonal items:
This item comes with 2 x 0.5m cable for connection to the master inverter and one slave inverter, and 2 x 1m cables for the 2nd and 3rd slave inverters. An installation kit with relief clamps and screws is also provided.
Click on the Details and Specifications tab for more information
Specifications:
Connections: 4 data inputs RJ45 for Steca Solarix PI inverters
Compatible with all Steca Solarix PI Inverters
Input: 230V AC or 115V AC
Output: 230V AC or 115V AC
Operating temperature: 0 C - +50C
Enclosure: IP20
Size: 196 x 106 x 52 mm
Weight: 0.8 kg
This product is covered by a 5 year manufacturer warranty. For more information please refer to our Terms and Conditions.
Please click on the Installation tab for more information
This product comes with a user manual which explains wiring and operations (see Documents tab).
If you need help with installation or have any technical questions we can provide FREE support - please contact us by email or phone (see Contact Us page for more information).