TELL A FRIEND ABOUT THIS PRODUCT
Testimonials:
150w panel is very good and works great in low light. I'm addicted to solar power!
Iain (Broxburn, W.Lothian, UK) - July 2015
We are a trusted supplier to thousands of UK clients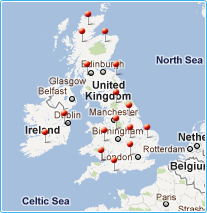 Steca inverters
Steca Solarix 1500W 48V pure sine wave power inverter 230V AC output
Phone order?
Call our number
0203 150 1111
and quote the product code below
(have your card and delivery details ready)
Working hours Mon-Fri 9am-6pm
We are a proud direct distributor of inverters from Steca Electronik, the leading global manufacturer in off-grid solar electronics. All Steca inverters are specifically designed with power loss minimisation in mind. Innovative engineering ensures that this Steca Solarix 1500W 48V pure sine wave inverter has incredibly high power conversion efficiency which significantly outperforms most other inverters. With the development, production, and testing stages conducted in their German manufacturing facility and all products supported by a 5 year warranty, Steca products are truly "100% made in Germany" to the highest European quality standards.
One of the key energy saving features of this inverter is the 'sleep mode' personalisation function. The dial on the front of the inverter allows the user to select a threshold at which the inverter will exit standby mode and enter full power mode. For example, if 'low sensitivity' is selected, the inverter will only wake up from standby mode when a high-power load is connected. This intelligent function is unique to Steca inverters and drastically minimises any energy loss from your solar system. This unit has an incredibly low standby power consumption of 0.7W and an impressive operational efficiency of up to 94%.
This product also has the unique ability to be connected in parallel on the AC output side with up to three other Steca Solarix PI inverters, offering multiple possibilities for future system expansion. In order to achieve this, the inverters will need to be linked using the Steca PA Link parallel switch box (sold separately). Adding one more inverter increases the nominal power from 1500W to 3000W, adding two inverters increases it to 4500W etc.
This product comes with important safety features including protection from over-discharge, overload, short-circuiting, over-heating and reverse polarity. The device also features a multi-coloured LED light to show system status and alert the user of any faults. The in-built automatic fan operates only when required to prevent overheating and keep noise to a minimum.
Which appliances can be powered? If you are unsure whether 1500W is sufficient for your appliances, please refer to the following table: Table of typical power consumption of domestic appliances
Click on the Details and Specifications tab for more information
Inverter specifications:
Continuous power: 900 VA
Surge power: 1500VA (30 mins) / 2800 VA (5 seconds)
Input: 42V - 64V
Output: 230V AC
Output frequency: 50 Hz
Output waveform: pure sine wave
Peak efficiency: 94%
Self-consumption: 0.7W (standby), 10W (in use)
Operating temperature: 0 C - +50 C
Cable lengths: 1.5m (battery cable and AC)
Enclosure: IP20
Size: 212 x 395 x 130 mm
Weight: 9 kg
This product is covered by a 5 year manufacturer warranty. For more information please refer to our Terms and Conditions.
Please click on the Installation tab for more information
This product comes with a user manual which explains wiring and operations.
To install this inverter, simply connect it to your 48V battery or battery bank using the "+" and "-" cables supplied with the unit, plug your appliances into the UK mains power socket, and turn the power switch on. An adaptor can be used for more sockets, provided that the total power consumption of all appliances connected to this inverter is within the maximum power rating.
Note for users of our solar charging systems: this inverter can be connected to your 48V battery / battery bank alongside any of our solar systems or charging kits. If you already have one of our 48V solar charging kits with a charge controller connected to your 48V battery, you can simply add this inverter directly to your battery (in parallel with the solar controller and 48V appliances). If the solar charge controller has a pair of 'load' terminals, please do not connect the inverter to this pair of terminals as the power might be too high for the solar controller. We recommended connecting it to your 48V battery directly.
If you need help with installation or have any technical questions we can provide FREE support - please contact us by email or phone (see Contact Us page for more information).