Didn't find products you were looking for?
Tell us about them! We might have these products in stock, but not on the website, or may be we are planning to restock them soon.
Testimonials:
Excellent British product. Just the job for our caravan at shows & festivals
Alma (Dyffryn Ardudwy, Wales, UK) - July 2017
We are a trusted supplier to thousands of UK clients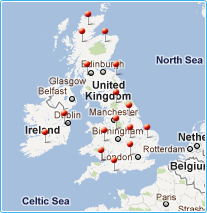 High efficiency 80W (40W + 40W) solar charging kit with a 10A solar charge controller and 2 x 5m cable, for charging a 12V / 24V battery or battery bank

High efficiency 200W (100W + 100W) solar system for charging a 12V / 24V battery or battery bank

600W 24V power inverter for converting 24V DC battery power into 230V AC mains power- ideal for off-grid locations and areas without access to mains electricity.

High efficiency 20A MPPT solar charge controller for solar panels up to 310W (12V battery) / 620W (24V battery) - designed and made in Italy

Intelligent Victron 250VA 12V Phoenix Inverter with VE.Direct port for advanced remote programming and monitoring of the system. UK 3-pin socket. 5 year warranty.

45A MPPT solar charge controller / regulator with advanced network connectivity and an LCD display, for charging 12V, 24V, 36V and 48V batteries by solar panels / solar systems with a voltage of up to 150V

Strong 20W semi-flexible monocrystalline solar panel, reinforced with anodised aluminium and a highly durable ETFE coating.

Brand new highly powerful 530W 12V dual battery solar charge controller / regulator for independent charging of two 12V batteries (can be used with one battery too) for solar panels up to 33A

80W 12V solar charging kit which includes a 80W monocrystalline solar panel with 5m solar cable, a 10A solar charge controller, mounting brackets, a waterproof cable gland, 5m 2.5mm dual core battery cable fitted with a 10A fuse, fuse holder and 8mm ring terminals and additional MC4 connectors.

Premium 250W Panasonic HIT® solar module with 1m of special solar cable and MC4-compatible connectors. Suitable for grid-tie, hybrid and off-grid applications.