TELL A FRIEND ABOUT THIS PRODUCT
Testimonials:
For the first time since we have owned the boat (28 years), we have more power than we need. Fantastic, and thanks again.
John (Weybridge, Surrey, UK) - May 2015
We are a trusted supplier to thousands of UK clients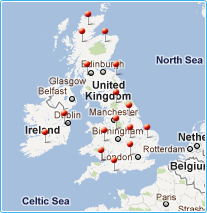 Mains Battery Chargers
Victron 20A 12V Blue Smart IP22 mains battery charger with Bluetooth connectivity
Phone order?
Call our number
0203 150 1111
and quote the product code below
(have your card and delivery details ready)
Working hours Mon-Fri 9am-6pm
Photonic Universe is an official distributor of products from Victron Energy - the globally renowned manufacturer of high quality hybrid power electronics. Victron Energy products have a longstanding reputation for their outstanding reliability, innovative design and superior build quality.
This Victron 20A 12V Blue Smart IP22 mains battery charger is designed to enable safe and efficient unattended charging of a 12V battery or battery bank from a mains power source (220-240V AC). This mains charger boasts an outstanding 93% efficiency, along with an adaptive automatic 6-stage charging process to deliver faster and more efficient charging. This unit also uniquely features Bluetooth connectivity, which enables the user to remotely monitor the charging system on a mobile device.
This unit is able to charge either a single 12V battery, or several 12V batteries connected in parallel (batteries must be the same type, capacity and age).
This mains battery charger is compatible with Lithium batteries (with a dedicated charging mode to optimise performance) in addition to standard Lead Acid batteries including AGM, Gel and Wet cell batteries.
Key features:
- Safe unattended charging: Features inbuilt safety functions (protection against DC short circuit, overheating, overcharging and reverse polarity of the battery), which allow the charger to be left permanently connected to the battery for unattended automatic charging.
- Adaptive battery management: Automatically adapts and optimises the charging process relative to the way in which the battery is being used. This adaptive ability also limits corrosion within the battery by reducing time spent in the absorption stage when possible (eg. when charging a battery which is already nearly fully charged).
- Continued charging during battery use: Operates even while energy is being drawn from the battery during use. The unit will maintain the charge if the battery is already at full capacity.
- Power supply function: Can provide a direct supply of power to a 12V load even when no battery is connected.
- Dead battery recovery: The charger will attempt to recharge a deeply-discharged battery (will start charging when a battery is at 0V) at a low current. As soon as sufficient battery voltage is reached, normal charging will resume.
- Silent night mode: By selecting either the 'night' or low' mode, the output current is reduced to max 50% of the nominal output and the charger enters a silent operation mode.
- Storage Mode: Designed to prevent aging of the battery when it is not in use. This mode is enabled whenever the battery has not been discharged for 24 hours. Storage mode minimises gassing and corrosion within the battery and prevents other major causes of early battery failure including sulphation.
- Bluetooth connectivity: Enables the user to remotely program settings (set battery type or charging current), monitor data (battery voltage, charge current, and charging cycle status) and download updates for the system via any Bluetooth-enabled device, using the free VictronConnect App.
- Inbuilt temperature sensor: Measures the ambient temperature and automatically compensates for temperature when charging lead-acid batteries.
- Charging status LEDs: 9 LED lights on the front panel indicate the current charging stage (night, bulk, absorption, float, storage) and the charging mode (normal, high, recondition, Lithium).
This charger is fitted with a 1.5m mains AC cable with a UK 3-pin plug.
Click on the 'Details and Specifications' tab for more information about this product.
Specifications:

Input voltage range (AC): 180V - 265V
DC output current (normal mode): 20A
DC output current (night or low mode): 10A
DC output voltage: 12V
Minimum battery capacity (normal mode): Lead-acid: 67Ah, Lithium: 40Ah
Minimum battery capacity (low current mode): Lead-acid: 33Ah, Lithium: 20Ah
Absorption charging voltage: 14.2V - 14.7V DC (depending on the battery type)
Float charging voltage: 13.5V - 13.8V (depending on the battery type)
Minimum battery voltage: starts charging at 0V ('dead battery')
Efficiency: 93%
Standby power consumption: 0.5W
Operating temperature range: -20°C to +50°C
Humidity (non condensing): Max 95%
Temperature compensation: 16mV/°C
Protection: IP22 (indoor use)
Dimensions: 235 x 108 x 65 mm
Weight: 1.3 kg
This product is covered by a 5 year manufacturer warranty.
Full details explaining wiring and operations can be found in the user manual supplied with this product (see Documents tab).
If you need help with installation or have any technical questions we can provide FREE support - please contact us by email or phone (see Contact Us page for more information).
Below is a video explaining how to connect the Blue Smart charger to the VictronConnect app via the inbuilt Bluetooth: