TELL A FRIEND ABOUT THIS PRODUCT
Testimonials:
Thankyou so much for a fantastic product that does what it says on the tin - it charges even in the lowest light!
Chris (Bristol, Avon, UK) - May 2015
We are a trusted supplier to thousands of UK clients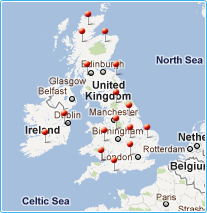 Battery Chargers & Monitors
Victron Energy GX Touch 50 Touchscreen Display Accessory for Cerbo GX
Phone order?
Call our number
0203 150 1111
and quote the product code below
(have your card and delivery details ready)
Working hours Mon-Fri 9am-6pm

Photonic Universe is an official distributor of products from Victron Energy - the globally renowned manufacturer of high-quality hybrid power electronics. Victron Energy products have a longstanding reputation for their outstanding reliability, innovative design and superior build quality.

Function:

The GX Touch 50 is a display accessory for the Cerbo GX. When connected to the Cerbo GX, the 5" touchscreen display gives an instant overview of your system and allows you to adjust settings in the blink of an eye. Its super slim waterproof design, top-mountable setup and simple installation bring a lot of flexibility when creating a crisp and clean dashboard.
The GX Touch 50 is optimised to more than meet the standards of installer professionals. The screen is simply bolted on top of a dashboard, eliminating the need to create perfect cut-outs, and is connected through just one cable, taking away the hassle of having to bring many wires to a dashboard.
Specifications:
Mounting: with included mounting accessories
Display resolution: 800 x 480
Outer dimensions (h x w x d): 87 x 128 x 12.4 mm
Cable length: 2 meters
This product is covered by a 5 year manufacturer warranty.
Full details explaining wiring and operations can be found in the user manual supplied with this product (see Documents tab).
If you need help with installation or have any technical questions we can provide FREE support - please contact us by email or phone (see Contact Us page for more information).