TELL A FRIEND ABOUT THIS PRODUCT
Testimonials:
Awesome 250W solar kit. Easy to fit, excellent instructions & advice via phone .
Lez (Dunstable, Bedfordshire, UK) - Feb 2016
We are a trusted supplier to thousands of UK clients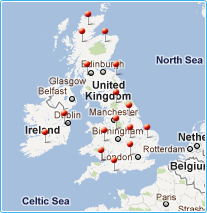 DC to DC Battery Chargers
Victron Cyrix-ct 120A 12/24V Intelligent Battery Combiner
Phone order?
Call our number
0203 150 1111
and quote the product code below
(have your card and delivery details ready)
Working hours Mon-Fri 9am-6pm
Photonic Universe is an official distributor of products from Victron Energy - the globally renowned manufacturer of high-quality hybrid power electronics. Victron Energy products have a longstanding reputation for their outstanding reliability, innovative design and superior build quality.
This 120A Victron Cyrix-ct intelligent battery combiner automatically connects and disconnects two independent battery banks based on voltage trends, optimising the sharing of power between batteries. This is perfect for vehicle battery systems where alternator charging can be shared with the leisure battery, and leisure charging (such as solar power or mains hook-up) can be shared with the engine starter battery.
Key Features
Intelligent monitoring and tracking of both battery systems, shares charging without over-discharging either battery
Full protection against over-discharge, overcurrent, over-temperature or over-voltage
Automatic 12V/24V system voltage detection
No loss of voltage between batteries
Bi-directional power flow shares charging in both directions
Start Assist manual override, allows leisure battery to assist with engine start-up in case of starter battery damage or deep discharge
Note: both battery banks in the system must have the same rated voltage. Smart alternators in Euro 6 or later engines may not be compatible with Voltage Sensing Relay technology such as this battery combiner.
Click on the 'Details and Specifications' tab for more information about this product.
Specifications:
Continuous current: 120A
Cranking current (5 secs): 180A
Standby consumption: <4mA
Rated voltage: 12V / 24V
Terminal size: 8mm
Dimensions: 46 x 46 x 80 mm
Weight: 110g
This product is covered by a 5 year manufacturer warranty. For more information please refer to our Terms and Conditions.
This battery combiner should be installed between the positive terminals of the two batteries or battery banks. The two positive cables should be wired into the corresponding bolt terminals located on the unit with appropriate fuses. The negative terminals of the two batteries should either be directly linked or connected through the negative common ground if it is already used in the system (such as a boat hull or vehicle chassis). The battery common negative should be connected to the battery combiner negative input using a thin cable (not provided).
Full details explaining wiring and operations can be found in the user manual supplied with this product.
If you need help with installation or have any technical questions we can provide FREE support - please contact us by email or phone (see Contact Us page for more information).