TELL A FRIEND ABOUT THIS PRODUCT
Testimonials:
Awesome 250W solar kit. Easy to fit, excellent instructions & advice via phone .
Lez (Dunstable, Bedfordshire, UK) - Feb 2016
We are a trusted supplier to thousands of UK clients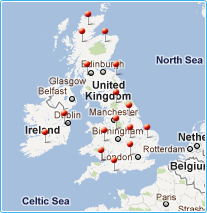 Discharge Protection
Victron Smart BatteryProtect 100A 12V/24V battery over discharge protector SBP-100 (Bluetooth inbuilt)
Phone order?
Call our number
0203 150 1111
and quote the product code below
(have your card and delivery details ready)
Working hours Mon-Fri 9am-6pm
Photonic Universe is an official distributor of products from Victron Energy - the globally renowned manufacturer of high quality hybrid power electronics. Victron Energy products have a longstanding reputation for their outstanding reliability, innovative design and superior build quality.
This Victron 100A 12/24V automatic smart battery protector offers protection for the discharging of your battery system, preserving your battery health and protecting appliances.
Features:
Low voltage disconnect: when battery charge is low, the Smart BatteryProtect disconnects the battery from nonessential loads to avoid deep discharge and preserve battery health.

Programmable low-voltage threshold: easily customise the disconnect threshold based on discharging needs.

Overvoltage disconnect: when battery voltage gets too high, the Smart Battery Protect disconnects the loads to protect them from damage.

Bluetooth connectivity: connect your smartphone for easy programming of the voltage settings.

Automatic system recognition: the Smart BatteryProtect detects the system voltage (12V or 24V) on start-up, allowing easy installation and setup.

Ultra-low current consumption: avoid further drain on the battery to preserve battery level, especially after low voltage disconnect.

Remote switch and alarm connections: connect input and output relays to control the Smart BatteryProtect remotely, manually turn loads on and off, and use custom alarm systems.

Compatible with Lithium batteries: specialised modes for use with Ve.Bus Lithium battery management systems, and as a charge interrupter for Lithium charging.
Click on the Details and specifications tab for more information about this product.
System Specifications:
Nominal battery voltage: 12V / 24V
Operating voltage range: 6 - 35V
Maximum continuous current: 100A
Peak current (30 seconds): 600A
Current draw: <1.5mA active, <0.6mA during disconnect
Alarm Relay: 50mA
Operating temperature range: -40°C to +40°C (up to 60% capacity at 50°C)
Dimensions:
Dimensions: 59 x 42 x 115 mm
Weight: 500g
M8 terminals
Additional items:
Negative cable: 50cm length, 1.5mm2 cross section
2 pin dry-contact socket for remote switch
3 pin dry-contact socket for negative cable, alarm and programming input
This product is covered by a 5 year manufacturer warranty. For more information please refer to our Terms and Conditions.
Click on the Installation tab for further instructions.
This unit comes with a detailed user manual which explains connection and operations. A technical drawing of the product dimensions is also available to download in the 'Documents' tab.
Please note:
The Smart Battery Protect should be connected on the positive battery wire, close to the battery.

This product is suitable for one-directional current flow only. Do not install in between battery and battery charger except for in specialised systems. See manual for further details.
The following videos provide a brief overview of how to use the BatteryProtect and how to program the settings:
If you need help with installation or have any technical questions we can provide FREE support - please contact us by email or phone (see our Contact Us page for more information).