TELL A FRIEND ABOUT THIS PRODUCT
Testimonials:
Great company to deal with, fast delivery, and very helpful with my questions
Bryan (Nuneaton, Warwickshire, UK) - Sep 2012
We are a trusted supplier to thousands of UK clients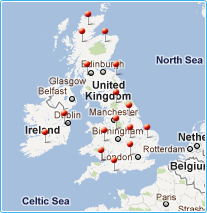 Large charging kits 80W-160W
100W (50W+50W) solar charging kit with 10A controller and 2 x 5m cables
Phone order?
Call our number
0203 150 1111
and quote the product code below
(have your card and delivery details ready)
Working hours Mon-Fri 9am-6pm
This kit includes:
2 x 50W high efficiency waterproof monocrystalline solar panels, each with 5m cable and MC4 connectors
10A Photonic Universe solar charge controller
2 x 50W solar panels:
This 100W system is perfect for permanent outdoor use to provide free electricity for charging 12V batteries to power various applications such as in a camper van, motorhome, boat, shed, farm, as well as remote applications such as telecommunications or monitoring equipment. It can also be used to provide a direct power supply for applications not sensitive to changes in input voltage / current (e.g. electric motors or pumps).
Each panel is fitted with 5m of special solar cable which can work at high roof temperatures, with minimum power losses. A pair of male / female MC4 connectors are crimped on the end of cable for easy connection to other solar panels, extension leads or to your existing system (the MC4 connectors can also be cut off when wiring to the screw terminals of a solar charge controller).
The long-lasting, high-efficiency monocrystalline solar cells and the tough, sealed, aluminium frame will provide years and years of consistent, free power. The waterproof design ensures that the panels can be used in all weather conditions.
These panels also feature innovative 5 busbar solar cells, which are more efficient than the 2, 3 or 4 busbar solar cells used in most other solar panels, and are able to extract more power from the same surface area. This results in a smaller overall solar panel, which is ideal for applications where space is limited. These solar cells are also the best choice for applications in warmer climates, as they operate well even in high ambient temperatures.
10A solar charge controller:
The kit includes a 10A 12V/24V Photonic Universe solar charge controller designed to protect batteries whilst charging them, with automatic cut off to prevent over-charging and deep discharge. The controller uses PWM (Pulse Width Modulation) technology which increases charge acceptance and prolongs the life of your battery. Often PWM technology can recover some lost battery capacity.
This controller stops reverse current at night (from the battery back to the solar panel) so your battery won't lose any charge. It has many other protection functions such as over charge / discharge, over load, short circuit, overheating etc. Other features of this controller include LED indicators, temperature sensor, and a load "on/off" button. One of the greatest benefits of this powerful 10A controller is the small size - only 14x7cm.
This controller can work with sealed, gel and flooded batteries (the default is sealed) or a user-defined battery type (please note battery type can only be changed from default using one of the communication methods listed below). The controller can accept up to 160W (12V battery) / 320W (24V battery) of solar power input, which makes it a perfect choice for small or medium solar PV systems with a battery and load such as in a campervan or boat.
The solar charge controller also features advanced communication technology, which offers the user the opportunity to monitor and program parameters for the solar charge controller through various methods:
1) The controller can be connected to a remote meter MT50 with an LCD screen, which displays system performance information, and allows the user to manually adjust parameters and load settings
2) The controller can be connected to a Wi-Fi module to create a Wi-Fi network, to which your mobile phone or tablet can connect, in order to monitor or adjust charging parameters and controller settings through a free mobile app - Solar Station Monitor (available for Android and iOS users).
3) An RJ45 to USB cable can be used to connect the controller directly to your PC / laptop, where parameters and settings can be monitored and adjusted via a free computer program - Solar Station Monitor (Windows-based PCs and laptops only).
Using one of these communication methods, the user will gain access to various charging parameters such as voltage, current (separately for solar panel / load), battery state of charge, accumulated charge and discharge energy, min/max voltage and other information. If required the user will also be able to amend the battery type and capacity, set charging volts for different charging stages, specify the duration of each charging stage, create a user-defined battery type with charging parameters specific to their battery (if the pre-existing options are unsuitable), personalise the 'load' settings (e.g. set timers for lighting, fans, pumps) and more.
In addition to the built-in temperature sensor, the controller has a pair of terminals for connecting a remote temperature sensor, which can be attached directly to the battery to measure the battery temperature more precisely and optimise the charging process.
Please note: This is an essentials kit and does not include mounting accessories or battery cable. If you require these additional items, please purchase them separately.
Click on the Details and Specifications tab for more information about this product.
Specifications (per solar panel):
Peak power: 50W
Maximum power voltage: 20.2V
Maximum power current: 2.48A
Open circuit voltage: 23.9V
Short circuit current: 2.63A
Power allowance range: +/- 3%
Dimensions: 590 x 505 x 25mm
Weight: 4.2 kg
4 mounting holes 6 x 9 mm
2 x 5m of high quality single core solar cable 2.5mm cross section
Male and female MC4 connectors attached (can be cut off when wiring to the solar controller)
Charge controller specifications:
Rated current 10A
Fully automated operation and auto 12/24V selection
Wide solar input voltage range up to 50V
3 pairs of terminals (input, battery, output)
LEDs to indicate charging, battery and load
Temperature sensor for automatic compensation (-3mV/°C/2V)
Over load protection (≥1.05 times the rated discharge current)
Short circuit protection (≥2 times the rated discharge current)
Over charge / discharge, overheating and other protection features
Self-consumption: ≤ 8.4mA (12V) / ≤ 7.8mA (24V)
Working temperature: -35C to +50C
Terminals for wire up to 4mm2
Size: 13.8 x 6.9 x 3.7 cm
Weight: 130 g
Multiple mounting holes for ease of installation
Please note: due to our warehouse arrangements, the solar charge controller may be shipped from a different warehouse to the solar panels and therefore delivered in a separate package.
This product is covered by a 1 year warranty provided by Photonic Universe (including a 1 year warranty for the solar charge controller and a 1 year workmanship warranty for the solar panel). We will repair or replace defective items at our discretion. For more information please refer to our Terms and Conditions.
In addition, solar cells are guaranteed to produce at least 90% of nominal power in 10 years after purchase and at least 80% of nominal power in 25 years after purchase. This warranty is provided by the manufacturer of solar cells.
For installation advice please click on the Installation tab.
For charging a 12V battery or 12V battery bank: The 2 x 50W solar panels should be wired in parallel ("+" to "+", "-" to "-") then connected to the "+" and "-" solar terminals of the solar controller
For charging a 24V battery or 24V battery bank: The 2 x 50W solar panels should be wired in series when "+" of one panel is connected to "-" of the other panel, and the remaining "+" and "-" leads should be connected to the "+" and "-" solar terminals of the solar controller respectively.
Installation tip: the 5m cable on each solar panel can be shortened as required (e.g. leaving 2m attached to the solar panel) and the remaining cable can be used between the solar controller and the battery / battery bank.
The solar charge controller is supplied with a detailed user manual (see Documents tab) which explains installation and operation in further detail.
If you need help with installation or have any technical questions we can provide FREE support - please contact us by email or phone (see Contact Us page for more information).