TELL A FRIEND ABOUT THIS PRODUCT
Testimonials:
Excellent people to do business with. Delighted with our inverter.
George (Kilraine, Co. Donegal, Ireland) - Dec 2016
We are a trusted supplier to thousands of UK clients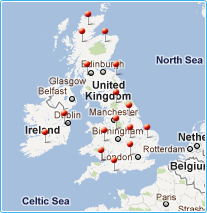 Morningstar controllers
Morningstar EMC-1 Ethernet Meterbus Converter for remote monitoring of Morningstar controllers
Phone order?
Call our number
0203 150 1111
and quote the product code below
(have your card and delivery details ready)
Working hours Mon-Fri 9am-6pm
As an official distribution partner of Morningstar products across the globe, we are proud to offer solar charge controllers and peripherals from this world-leading supplier. Innovative design from years of dedicated research and superior build quality enable this top-of-the-range network converter to provide detailed monitoring and customisation of Morningstar solar charge controllers.
This Morningstar EMC-1 Ethernet Meterbus converter enables remote access and monitoring of a Morningstar solar charge controller through a network connection - even if the Morningstar device does not support this on its own. Powered from the same battery as the charge controller, the EMC-1 can convert a Meterbus (RJ-11) or RS-232 comms port into a web-compatible Ethernet port (RJ-45) to allow monitoring of the device through the internet or a local area network (LAN).
The Morningstar EMC-1 is compatible with:
By connecting to the device through a web browser, the Morningstar LiveView interface displays real-time data, faults and alarms and enables the user to remotely amend network settings. Once connected, the solar charge controller can be monitored remotely from any PC, laptop, or mobile device on the same network, or even anywhere in the world through the internet (some network setup required). Morningstar LiveView is therefore ideal for solar charging systems in remote or difficult to access locations, as it eliminates the need to visit the installation site to monitor the system.
If the device is connected directly to a computer, the free MSView PC software is a useful tool for users seeking in-depth analysis and specific requirements for their charge controllers. MSView unlocks access to a wide range of options for viewing data including graphical displays and for customising device functions such as automatic data logging (not available for SunSaver Duo) and setting custom battery charging parameters.
The official Morningstar cloud-hosted data service, if available, will back-up the data broadcast from the device and provide easy access to data logs through the internet - even while the device is offline.
This device operates in a wide temperature range, making it suitable for use in a variety of climates with a system voltage ranging from 8V to 80V. For simplified installation, the converter will auto-detect a connection to compatible Morningstar devices and automatically configure the settings.
A switch on the converter enables/disables the remote configuration function - preventing unintended changes to settings once setup is complete. LEDs on the unit indicate power and connection status.
This unit is supplied with an Ethernet cable, battery cables, and a Y-cable for Meterbus and RS-232 connections. The converter can be mounted with screws (included) or slid onto a DIN rail.
Click on the Details and Specifications tab for more information.
Converter specifications:
DC input range: 8-80V
Self-consumption: ~2W
Communication ports:

Meterbus (RJ-11)
Ethernet (RJ-45)

Supplied with:

Ethernet cable
Positive battery cable
Negative battery cable
Y-cable with 2x RJ-11 and 1x RS-232 connections
4x #10 cross head screws

Operating temperature: -40°C to 60°C
Size: 123 x 86 x 30 mm
Weight: 0.13 kg
This product is covered by a 2 year manufacturer warranty. For more information please refer to our Terms and Conditions.
The product comes with an instruction manual (see the 'Documents' tab for a download link) which explains connections and operations.
See Morningstar's official guide video for an overview of the EMC-1 system.
If you need help with installation or have any technical questions we can provide FREE support - please contact us by email or phone (see Contact Us page for more information).