TELL A FRIEND ABOUT THIS PRODUCT
Testimonials:
Excellent British product. Just the job for our caravan at shows & festivals
Alma (Dyffryn Ardudwy, Wales, UK) - July 2017
We are a trusted supplier to thousands of UK clients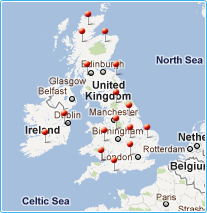 Connectors and plugs
Pair of MC4 T-branch cable connectors / plugs for solar panels and photovoltaic systems
Phone order?
Call our number
0203 150 1111
and quote the product code below
(have your card and delivery details ready)
Working hours Mon-Fri 9am-6pm
This is a pair of MC4 T-branch cable connectors for solar panels and photovoltaic systems (2 male + female, 2 female + male connectors). These connectors are typically used for linking two solar panels together but can also be used for more complex solar systems where T-junction connectors are required.
These connectors fit all Photonic Universe solar panels and most other solar panels with MC4 connectors. Please note that these connectors are not compatible with other types of MC connectors such as MC3.
The connectors are fully waterproof which means that they can be used outdoors in all weather conditions.
Installation of these connectors is very easy - simply plug in the corresponding connectors.