TELL A FRIEND ABOUT THIS PRODUCT
Testimonials:
Many thanks 10-10 this is how business should be done. First class....
Tom (Ayr, East Ayrshire, UK) - March 2015
We are a trusted supplier to thousands of UK clients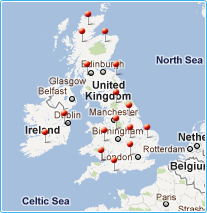 5A-10A controllers
10A solar charge controller / regulator for 12V batteries and solar panels up to 160W
Phone order?
Call our number
0203 150 1111
and quote the product code below
(have your card and delivery details ready)
Working hours Mon-Fri 9am-6pm
This advanced Photonic Universe 10A 12V solar charge controller is intelligently designed to simultaneously protect and charge a 12V battery.
Safety protection functions:
This solar controller features a full range of safety functions such as protection against reverse current at night (from the battery back through the solar panel), over charge / discharge, overvoltage, over load, short circuit etc. The PWM (Pulse Width Modulation) technology used in this controller increases charge acceptance and prolongs the life of your battery. PWM technology can also recover some lost battery capacity.
Key features:
This advanced 10A 12V solar charge controller features:
A 5V USB port (1.2A output) offering fast charging of USB compatible devices (e.g mobile phones, tablets, mp3 players etc)
A pair of load terminals for connecting 12V loads (such as lights) if desired.
Bright LED indicators to show the battery state of charge as well as the status of the solar panel and 12V load. An "on/off" button is also available for the load.
Compatibility:
This controller can be used with solar panels up to 160W in total. The highest efficiency of charging 12V battery will be achieved when the controller takes input from solar panels with maximum power voltage 17-20V (such as 80W-160W Photonic Universe solar panels). If your solar panel voltage is higher than 25V, we would recommend one of our MPPT solar charge controllers for maximum efficiency of charging 12V batteries.
This controller is compatible with sealed, gel and flooded batteries - the battery type can be selected by the user.
Controller specifications:
Charging current: 10A
Load current: 5A
Rated voltage: 12V
LEDs to indicate battery state of charge, solar panel and load status
Self-consumption: ≤5mA
Working temperature: -35C to +55C
USB Interface: 5V DC / 1.2A
3 pairs of terminals (solar panel, battery, load) for wire up to 4mm2
Size: 120.3 x 67 x 21.8 mm
Weight: 90 g
2 x 4.5mm mounting holes
This product is covered by a 1 year warranty. For more information please refer to our Terms and Conditions.
The product comes with an instruction manual which explains connections and operations.
If you need help with installation or have any technical questions we can provide FREE support - please contact us by email or phone (see Contact Us page for more information).
The following documents are available to download: