TELL A FRIEND ABOUT THIS PRODUCT
Testimonials:
Impressive service. Powerful inverter. Nice price. Rapid delivery. Recommended.
Robert (Enfield, Middlesex, UK) - Sept 2017
We are a trusted supplier to thousands of UK clients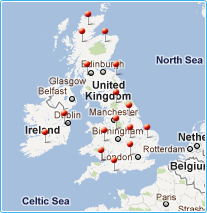 Other cable
2m RS485 to RJ45 cable to connect a waterproof solar charge controller to a remote display/Wi-Fi module
Phone order?
Call our number
0203 150 1111
and quote the product code below
(have your card and delivery details ready)
Working hours Mon-Fri 9am-6pm
This 2m RS485 to RJ45 cable is designed to connect a Photonic Universe waterproof solar charge controller to a remote meter or Wi-Fi module to enable monitoring and programming of solar system parameters.
The cable is designed for use with the Photonic Universe PU1024BW series solar charge controller which is used in our folding solar charging kits or available separately.
This cable connects the solar charge controller to a remote meter or Wi-Fi module in order to monitor various charging parameters such as voltage, current (separately for solar panel / load), battery state of charge, etc.
In addition, connecting the controller to a remote meter or Wi-Fi module will unlock a range of exclusive settings for the controller; providing far greater control over your solar system. With access to this vast range of charging parameters, the user will be able to:
- Amend the battery type and capacity
- Select charging volts for different charging stages
- Specify the duration of each charging stage
- Create a user-defined battery type with charging parameters specific to your battery (if the pre-existing options are unsuitable)
- Personalise the 'load' settings - e.g. set timers for lighting, fans, pumps
Click on the Details and Specifications tab for more information about this product.
Cable specifications:
Cable length: 2 metres
Connection: 1 x RS485, 1 x RJ45
Compatible with

PU1024BW