TELL A FRIEND ABOUT THIS PRODUCT
Testimonials:
This arrived so fast, it must have been beamed over! 5*++++
Peter (Shoreham-by-Sea, West Sussex, UK) - June 2012
We are a trusted supplier to thousands of UK clients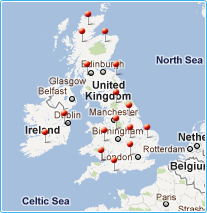 Medium charging kits 20W-60W
20W 12V solar charging kit with 5A solar controller and battery cable with crocodile clips
Phone order?
Call our number
0203 150 1111
and quote the product code below
(have your card and delivery details ready)
Working hours Mon-Fri 9am-6pm
This 20W solar charging kit includes:
High efficiency 20W polycrystalline solar panel with 3m cable
Advanced 5A solar charge controller with USB charging port and battery protection functions
2m battery cable with crocodile clips and a fuse
User manual with installation instructions
20W solar panel:
This kit includes a waterproof high efficiency 20W solar panel which is perfect for permanent outdoor use to provide free power for charging a 12V battery to then power various devices for many applications (e.g. 12V lights, fan, water pump, electric fence etc). The kit can also be used to charge a leisure battery in a camper, caravan or boat.
The long-lasting, high-efficiency, polycrystalline cells and the tough, sealed, aluminium frame will give you years and years of consistent, free power. The waterproof design ensures that the panel can be used in all weather conditions.
The panel comes with 3m cable which is attached to the waterproof junction box at the back. Please note that the junction box protrudes approximately 0.5cm beyond the frame, which means that there must be some space left between the frame and flat surface when mounting the panel (note 1.0 - 1.5cm space under the panel is typically recommended for cooling).
5A solar charge controller:
This kit includes an advanced 5A solar charge controller designed to protect your 12V battery whilst charging it. This advanced controller has a 5V USB port (1.2A output) offering fast charging of USB compatible devices (e.g mobile phones, tablets, mp3 players etc) as well as a pair of load terminals for connecting 12V loads (such as lights) if desired.
The controller can work with sealed, gel and flooded batteries - the battery type can be easily set. The unit also has a pair of terminals for connecting your 12V loads if necessary (such as lights etc).
This solar controller stops reverse current at night (from the battery back through the solar panel) so your battery won't lose any charge. It has many other protection functions such as over charge / discharge, over load, short circuit, overheating etc. Other features of this controller include LED indicators, battery type switch and load "on/off" button.
Additional items:
The solar kit also includes 2m battery cable with a fuse and crocodile clips for ease of connection to your battery. A user manual is provided with the solar kit which contains instructions for a quick and safe installation. Advanced users will also benefit from an additional user manual for the solar controller (see documents tab).
Click on the Details and Specifications tab for more information.
Solar panel specifications:
Peak power: 20W
Maximum power voltage: 17.5V
Maximum power current: 1.14A
Open circuit voltage: 21.6V
Short circuit current: 1.23A
Power allowance range: +/- 3%
Dimensions: 485 x 345 x 25 mm
Weight: 2.0 kg
4 mounting holes
3m cable attached
Charge controller specifications:
Charging current: 5A
Load current: 5A
Rated voltage: 12V
LEDs to indicate battery state of charge, solar panel and load status
Self-consumption: 12V ≤5mA ; 24V ≤7mA
Working temperature: -35C to +55C
USB Interface: 5V DC / 1.2A
3 pairs of terminals (solar panel, battery, load) for wire up to 2.5mm2
Size: 109.7 x 65.5 x 20.8 mm
Weight: 90 g
2 x 4.5mm mounting holes
This product is covered by a 1 year warranty (workmanship warranty on the solar panel is provided by Photonic Universe, solar charge controller warranty is provided by the solar controller manufacturer). For more information please refer to our Terms and Conditions.
In addition, solar cells are guaranteed to produce at least 90% of nominal power in 10 years after purchase and at least 80% of nominal power in 25 years after purchase. This warranty is provided by the manufacturer of solar cells.
A user manual is included with the solar kit which contains instructions for a quick and safe installation. Advanced users will also benefit from an additional user manual for the solar controller (see documents tab).
If you need help with installation or have any technical questions we can provide FREE support - please contact us by email or phone (see Contact Us page for more information).
The following documents are available to download: