TELL A FRIEND ABOUT THIS PRODUCT
Testimonials:
40W solar panel suitcase worked better than expected - completely charged our leisure battery in a few hours on a very overcast day.
Addie (Walton, Norfolk, UK) - Aug 2013
We are a trusted supplier to thousands of UK clients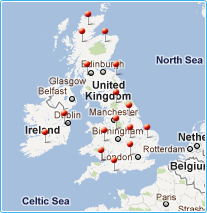 DC Circuit Breakers
250A 12V/24V/48V Automatic over-current DC circuit breaker
Phone order?
Call our number
0203 150 1111
and quote the product code below
(have your card and delivery details ready)
Working hours Mon-Fri 9am-6pm
This 250A circuit breaker acts as a resettable 250A fuse. It is ideal for any DC system that requires over-current protection. The breaker is suitable for a wide range of DC system voltages from 12V to 48V.
Like any fuse, this circuit breaker is designed to protect the system from over-current as a result of high power draw, short-circuits, wiring mistakes, equipment faults or any other high current event. The circuit breaker is resettable which makes it a superior alternative to fuses which require replacement when blown.
The circuit breaker is made from strong thermal plastic engineered to withstand high temperatures (UL94V-0 rated). The breaker is also water resistant (IP67 rated) and ignition protected (meets international standards S.A.E. J1625, J1171, UL1500).
This product is suitable for a wide range of DC applications including:
Between off-grid inverter DC input and batteries;
DC power distribution or charging circuits;
Other DC automotive and marine applications.
Click on the Details and Specifications tab for more information.
Circuit breaker specifications:
Rating: 250A
Type: Thermal overcurrent protection device
Material: Thermal Plastic (

UL rated 94V-0)

Operating temperature: -32C to 82C
Storage temperature: -34C to 149C
Terminals size: M10
Enclosure: IP67
Size : 86 x 48 x 37 mm
Weight : 138g
Waterproof rating: IP67
International standard ratings (S.A.E. J1625, J1171, UL1500)
Please note that this circuit breaker is intended for surface mounting.