TELL A FRIEND ABOUT THIS PRODUCT
Testimonials:
As described . Excellent . Quick delivery. A delight. Thanks!
Mark (Melton Mowbray, Leics, UK) - Nov 2014
We are a trusted supplier to thousands of UK clients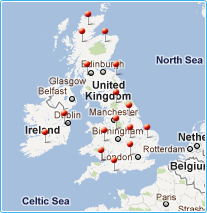 Victron Controllers
Victron SmartSolar MPPT 100/20 20A solar charge controller for solar panels up to 290W (12V) / 580W (24V) / 1160W (48V) up to 100V (Bluetooth inbuilt)
Phone order?
Call our number
0203 150 1111
and quote the product code below
(have your card and delivery details ready)
Working hours Mon-Fri 9am-6pm
Photonic Universe is an official distributor of products from Victron Energy - the globally renowned manufacturer of high quality hybrid power electronics. Victron Energy solar charge controllers have a longstanding reputation for their outstanding reliability, innovative design and superior build quality.
This Victron 100V 20A MPPT controller comes from the intelligent SmartSolar range, which uses the latest ultrafast MPPT technology to maximise energy harvest whilst maintaining optimal battery health. This SmartSolar MPPT controller uniquely features built-in Bluetooth, to allow remote system monitoring via any Bluetooth enabled device, in addition to an intelligent BatteryLife function .
Ultrafast MPPT Technology:
This 20A MPPT solar charge controller is designed to deliver the highest possible energy yield in the shortest amount of time. This is achieved through the use of high speed Maximum Power Point Tracking technology, which tracks the maximum power voltage point of the solar panels as it varies depending on sunlight exposure and temperature.
This technology enables the controller to produce up to 30% greater energy yield than PWM controllers and as much as 10% more power than slower MPPT controllers. This advanced technology allows the controller to perform extremely well in low-light or cloudy conditions, as the controller consistently strives to extract the maximum available power from the solar array.
Inbuilt safety protection:
Fully equipped with an extensive range of safety features, this controller offers complete protection against potential hazards such as battery reverse polarity, load short circuit, low-voltage load disconnect and battery overheating - monitored via the internal temperature sensor. The controller also has self-diagnostic capability and highlights any system errors using sophisticated fault-targeting technology. These are signalled via the high intensity LED indicators.
Intelligent 'BatteryLife' function:
To prevent complete discharge of the battery and avoid potentially permanent damage, this controller is equipped with the Victron BatteryLife function; a state-of-the-art feature designed to extend the lifetime of the battery by monitoring and controlling the output of excessive loads. Using an intelligent algorithm, the controller will continuously monitor the battery state of charge, and if required (e.g. during periods of poor weather), will gradually adjust the load disconnect threshold until a full 100% recharge is consistently achieved on a weekly basis. Alternatively, the load voltage disconnect point can be manually configured to your preferred level, using the VictronConnect software (see below).
Inbuilt Bluetooth:
This SmartSolar charge controller features built-in Bluetooth which allows the user to easily connect to any Bluetooth enabled device, such as a mobile phone, tablet or iPad in order to access the VictronConnect App (no additional Bluetooth dongle required). The mobile app unlocks numerous possibilities for advanced programming and remote monitoring of your Victron SmartSolar system. Once the controller is paired with the app, a wide range of additional features are made available, including:
Live data transmission: Real-time information is displayed including solar panel output, battery voltage and current (flowing into and out of the battery) as well as battery state of charge.
Detailed data logs: System activity for the past 30 days is available to view; either as in-depth daily logs or as a monthly summary. These easy-view graphics display daily energy yield, maximum recorded power and voltage, time spent in each charging stage, minimum and maximum recorded battery voltages, error records and total energy counters.
Load configuration: Option to choose from one of the pre-set load management programs or create a user-defined program. Includes a streetlight function to control the duration and brightness of nighttime lighting.
The VictronConnect App is also available to download as a PC version, for computers without bluetooth connectivity. If you would like to use the PC version of the app to monitor/program your SmartSolar system, this controller can be connected to your PC via a VE Direct USB cable.
Optional Remote LCD Display:
The user can connect an optional MPPT Control panel (sold separately) to the controller to access a range of monitoring and programming functions. The display shows charging parameters (voltage, current, power) for the solar panel, battery and load, as well as 30 day performance data. The user can also adjust the load settings and specifically set the duration and voltage of each charging stage.
Other features:
The Victron SmartSolar MPPT 100/20 model is ideal for a wide range of applications as it is resistant to extreme temperatures, high altitudes, dusty environments and marine environments. The unit enclosure is IP43 water resistant with resin encapsulation of the internal electrical components and has a PD3 pollution rating.
This solar charge controller is also compatible with a wide range of battery types, including AGM, Gel, Tubular plate and Lithium batteries.
Click on the Details and Specifications tab for more information about this product.
Specifications:
- The most advanced MPPT technology to ensure high efficiency (> 95%) of your solar system
- Fully automated operation and auto 12 / 24V selection
- 3 pairs of terminals (solar panel, battery, load) for wires up to 6mm2
- Inbuilt bluetooth
- Max solar panel voltage: 100V
- Max solar panel power: 290W (12V) / 580W (24V) / 1160W (48V)
- Temperature sensor for automatic compensation (-16mV °C resp. -32mV °C)
- Comprehensive electronic protection features
- Communication port: RS232 / TTL for VE Direct accessories
- Self-consumption (load on): 12V: 26mA / 24V: 20mA / 48V: 19mA
- Self-consumption (load off): 12V: 10mA / 24V: 8mA / 48V: 7mA
- Load Current : 20A (12V/24V); 1A (48V)
- Working temperature: -30°C to +60°C
- IEC/EN certified
- Enclosure: IP43 (electronic components) / IP22 (connection area)
- Pollution Degree rating: PD3
- Dimensions: 100 x 113 x 60 mm
- Mounting dimensions: 99 x 84 mm
- Weight: 650g
- 4 x mounting holes for ease of installation
This product is covered by a 5 year warranty. For more information please refer to our Terms and Conditions.
This product comes with a detailed user manual which explains wiring and operations (see Documents tab).
If you need help with installation or have any technical questions we can provide FREE support - please contact us by email or phone (see Contact Us page for more information).