TELL A FRIEND ABOUT THIS PRODUCT
Testimonials:
Photonic Universe, as sorted my problem out with Sam giving a first class service thank you very much would Recommend to anybody wanting solar power
Derrick B - Dec 2020
We are a trusted supplier to thousands of UK clients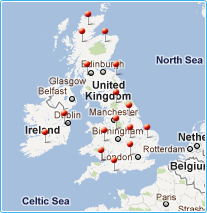 Textured fibreglass solar kits
480W (2 x 240W) 12V/24V semi-flexible narrowboat solar charging kit with Austrian textured fibreglass solar panels
Phone order?
Call our number
0203 150 1111
and quote the product code below
(have your card and delivery details ready)
Working hours Mon-Fri 9am-6pm
This powerful, waterproof 480W monocrystalline solar charging kit is perfect for permanent outdoor use for charging 12V or 24V batteries in marine applications such as narrowboats, wide beams, Dutch barges, catamarans or other sailing boats. This kit is also suitable for various other applications, including motorhomes, caravans, vehicles, and off-grid back up solar systems. These 240W solar panels are ideal for flat or curved roofs, as they can easily mould to the shape of the mounting surface. This is our most powerful flexible solar charging kit, and can generate up to 40A charging current when charging a 12V battery.
The solar kit includes:
2 x 240W semi-flexible, textured solar panels made of plastic reinforced with glass fibre - IEC certified (Austrian made)
40A 12V/24V high efficiency MPPT solar charge controller with inbuilt LCD display
A pair of 5m 4mm2 single core extension cables with MC4 connectors
3m of 10mm2 battery cable with a 40A fuse, fuse holder, and 8mm ring terminals
240W semi-flexible solar panels:
This solar panel has a textured surface that reduces the reflection of light whilst maximising the absorption of light from every possible angle. This ensures high performance of this solar panel in low light or cloudy conditions, or when the light falls at an angle (morning, evening or winter times). The fibreglass plastic used in this solar panel is very strong and durable. Soft and sealed edges of the solar panel make it resilient to mechanical impact on the sides and help avoid long term delamination. These Austrian manufactured solar panels are made to the highest European quality standards and are fully waterproof with a high resistance to salt water environments which makes this solar panel perfect for boats and marine applications.
High efficiency MPPT controller:
The 40A high efficiency MPPT solar charge controller included in this kit uses the most advanced Maximum Power Point Tracking (MPPT) technology to track the maximum power voltage point of solar panels as it varies depending on sunlight exposure and temperature. This technology ensures the maximum efficiency of your solar system and significantly outperforms standard PWM solar controllers.
The controller features a comprehensive set of electronic protection functions such as stopping reverse current at night (from the battery back to the solar panel), automatic cut off to prevent over-charging and deep discharge, over voltage, over load, short circuit and reverse polarity protection.
The built-in LCD screen shows real-time charging parameters such as voltage, current (separately for solar panels / load), battery state of charge, accumulated charge and discharge energy. The easy to use buttons allow the user to manually select the battery type (sealed, flooded or gel) and program load settings (e.g. set timers for lighting, fans, pumps etc). Other features include LED indicators and a temperature sensor.
This controller is compatible with lead-acid (sealed, gel or flooded) and lithium batteries.
Advanced monitoring and programming:
This solar charge controller also features advanced communication technology, which offers the user the opportunity to monitor and program parameters for the controller through various methods:
1) The controller can be connected to a remote meter MT50 with an LCD screen, which displays system performance information and allows the user to manually adjust parameters and load settings
2) The controller can be connected to a Wi-Fi module to create a Wi-Fi network, to which your mobile phone or tablet can connect, in order to monitor or adjust charging parameters and controller settings through a free mobile app (available for Android and iOS users).
3) An RJ45 to USB cable can be used to connect the controller directly to your PC / laptop, where parameters and settings can be monitored and adjusted via a free computer program - Solar Station Monitor (Windows-based PCs and laptops only).
Using one of these communication methods, the user will gain access not only to the standard charging parameters already shown via the built-in LCD screen, but also additional information such as min/max voltages, temperature, protection cut off voltages, diagnostics and other information. If required the user will also be able to amend the battery capacity, set charging volts for different charging stages, specify the duration of each charging stage, create a user-defined battery type with charging parameters specific to their battery (if the pre-existing options are unsuitable), and more.
Additional items:
Each solar panel is fitted with 2 x 0.9m cable (4.0mm2 cross section) with waterproof MC4 connectors, which can be easily connected to the 4.0mm2 extension cable in this kit, or alternatively used for linking several panels together. This kit also includes 3m of heavy duty red and black battery cable (10mm2 cross section) with a 40A fuse, fuse holder, and 8mm ring terminals for use between the solar charge controller and your battery.
Click on the Details and Specifications tab for more information
Specifications (per solar panel):
Peak power: 240W
Maximum power voltage: 27.6V
Maximum power current: 9A
Open circuit voltage: 33.1V
Short circuit current: 9.4A
Dimensions: 1434 x 1020 x 2 mm
Weight: 4.75 kg
2 x 0.9m cable (4.0mm2 cross section) with waterproof MC4 connectors
Controller specifications:
The most advanced MPPT technology to ensure high efficiency (>95%) of your solar system
Fully automated operation and auto 12/24V selection for lead acid batteries
3 pairs of terminals (solar panel, battery, load) for wires up to 16mm2
Maximum solar panel voltage: 100V
Maximum solar panel power: 520W (12V) / 1040W (24V)
Temperature sensor for automatic compensation (-3mV/°C/2V) (auto temperature compensation not enabled for lithium batteries)
Comprehensive electronic protection features
Communication port: RS485/RJ45 interface
Grounding: negative common ground
Current limiting function (40A)
Self-consumption:

≤

12mA
Working temperature: -25°C to +50°C
Size: 25.2 x 18 x 6.3 cm
Mounting dimensions: 21 x 17.1 cm
Weight: 1.65kg
Multiple mounting holes (5mm diameter) for ease of installation
Please note: due to our warehouse arrangements, the solar charge controller and accessories may be shipped from a different warehouse to the solar panels and therefore delivered in a separate package.
This product is covered by a 2 year warranty. In addition, solar cells are guaranteed to produce at least 90% of nominal power in 10 years after purchase and at least 80% of nominal power in 25 years after purchase. This warranty is provided by the manufacturer of solar cells. For more information please refer to our Terms and Conditions.
These solar panels and solar charge controller each come with a detailed instruction manual which explains wiring, operations and settings (see Documents tab).
These solar panels are usually fitted to a roof / deck using a suitable adhesive, but they can also be secured with self-tapping screws, tenax fasteners or even zipping (not included).
Note: this solar charge controller is not waterproof, and should be mounted indoors.
The recommended minimum battery bank capacity for this kit is 200Ah for 12V battery banks, and 100Ah for 24V battery banks (for example, we do not advise using this kit with a single 100Ah 12V battery as the charging current may be too strong).
If you need help with installation or have any technical questions we can provide FREE support - please contact us by email or phone (see Contact Us page for more information).