TELL A FRIEND ABOUT THIS PRODUCT
Testimonials:
100W back-contact panel getting good open voltage even in cloudy conditions !
Brian (Crawley, West Sussex, UK) - May 2017
We are a trusted supplier to thousands of UK clients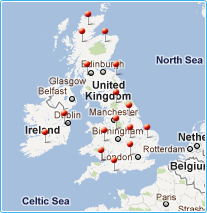 Battery Cable
3m 16mm2 single core red and black extension cable with a fuse holder, 60A fuse and ring terminals (8mm)
Phone order?
Call our number
0203 150 1111
and quote the product code below
(have your card and delivery details ready)
Working hours Mon-Fri 9am-6pm
This pair of single core 3m cables can be used in solar charging kits as a battery cable between the solar charge controller and your battery, or for many other applications; such as in vehicles, boats or for general wiring purposes.
The cable comes fitted with a fuse holder and 60A midi fuse, along with 8mm ring terminals for quick connection to the battery.
The 16mm2 cross section makes this cable perfect for current up to 60A and ensures negligible power loss.