TELL A FRIEND ABOUT THIS PRODUCT
Testimonials:
Est. delivery: 29 Dec. Delivered 24 Dec - unbelievable! Impressed with seller!
Anthony (Liverpool, Merseyside, UK) - Dec 2014
We are a trusted supplier to thousands of UK clients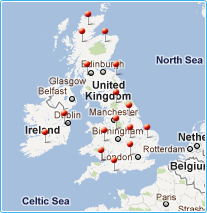 15A-20A controllers
20A 12V/24V solar charge controller with LCD display for motorhomes, boats, lighting or off-grid solar systems
Phone order?
Call our number
0203 150 1111
and quote the product code below
(have your card and delivery details ready)
Working hours Mon-Fri 9am-6pm
This 20A 12V/24V solar charge controller has been designed and produced in Italy by one of the leading European solar technology manufacturers, in accordance with the highest quality standards.
This solar charge controller uses PWM (Pulse Width Modulation) technology to improve charge acceptance and extend the life of your battery. PWM technology can also recover some lost battery capacity.
Key features:
Complete electronic protection of your battery and system, e.g. prevention of: current back-flow, overcharge / discharge, overvoltage, overload, short circuit, and reverse polarity
LCD display showing advanced system information, including: power, voltage and current for the solar panels and battery, energy counter, temperature, load work
Pre-set programmes for several battery types (sealed, AGM, gel, flooded lead acid) and fully adjustable low-voltage battery protection
100% designed and made in Italy to the highest quality standards, with a 5 year manufacturer warranty
This unit is compatible with sealed, gel and flooded lead acid batteries. It has pre-set charging programmes for different battery types, and battery low voltage protection can be also configured according to your requirements. Load working modes can be programmed for many different applications; for example to set on/off timers for lighting/ fans/pumps.
This controller is compatible with solar panels with a combined power of up to 320W (12V battery) / 640W (24V battery) and voltage of up to 55V, although this controller works most efficiently with solar panels with an operating voltage of 17V-20V (with a 12V battery) / 34V-40V (with a 24V battery).
Click on the Details and Specifications tab for more information
Controller specifications:
Fully automated operation and auto 12V/24V selection
Rated charging and load current: 20A
Enhanced monitoring and charging / load work control
Maximum solar panel input voltage 55V
3 pairs of terminals (input, battery, load) for wire up to 10mm2
Temperature sensor: built in
Full set of electronic protection functions
Self-consumption: 8mA
Working temperature: -10C to +60C
Size: 15 x 12 x 5 cm
Weight: 500 g
Multiple mounting holes for ease of installation
This product is covered by a 5 year manufacturer warranty. For more information please refer to our Terms and Conditions.
This controller is supplied with a detailed instruction manual which explains wiring and operations (see Documents tab).