TELL A FRIEND ABOUT THIS PRODUCT
Testimonials:
Really fantastic communication and service would highly recommend
Ben G-W - Jul 2021
We are a trusted supplier to thousands of UK clients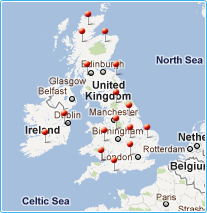 Morningstar controllers
Morningstar SunSaver 10A 12V solar charge controller for motorhomes, boats, marine, oil and gas, telecom and instrumentation
Phone order?
Call our number
0203 150 1111
and quote the product code below
(have your card and delivery details ready)
Working hours Mon-Fri 9am-6pm
As an official distribution partner of Morningstar products across the globe, we are proud to offer solar charge controllers from this world-leading supplier. Innovative design from years of dedicated research and superior build quality enable these top-of-the-range solar charge controllers to extend battery capacity and life, maximise energy production, and consistently achieve high performance standards.
This high quality Morningstar SunSaver 10A 12V solar charge controller is a third generation of the famous SunSaver range of solar charge controllers, with over 1 million units installed in over 73 countries for various applications, such as motorhomes and caravans, boats, yachts and marine, oil and gas, telecom and instrumentation, and household solar systems.
The controller is designed to protect batteries whilst charging them, providing automatic cut off to prevent over-charging and deep discharge. It comes with a full range of protection functions: overload, short circuit, high voltage, reverse polarity, high temperature, lightning and transient surges, reverse current at night.
Epoxy encapsulated for protection against humidity and dust ingress, the controller comes in an anodized aluminium case with marine rated terminals to prevent corrosion. With the working temperature range from –40°C to +60°C and certification for hazardous locations (e.g. oil and gas), this controller is a perfect choice for harsh environments.
Other key features of this controller include:
Extremely high reliability, with a failure rate of less than 0.1% and a long 5 year warranty
Dead battery recovery function which allows the controller to resume charging even if the battery gets discharged
Specific settings, such as slow switching charging mode for sensitive loads and instrumentation devices (e.g. telecommunications)
Automatic load control function depending on the battery condition
Easy to install and use, with factory pre-sets, fully automatic operation and fault recovery
This controller can work with sealed and flooded batteries. Its charging algorithm is compatible with lead-acid or NiCd batteries.
Click on the Details and Specifications tab for more information about this product.
Controller specifications:
Certified for use in hazardous locations (Class 1, Division 2, Groups A,B,C,D)
Nominal battery voltage: 12V
Rated charging and load current: 10A
Solar input voltage up to 30V and power up to 160W
3 pairs of terminals (input, battery, output), plus another terminal for the battery jumper
Multi-colour LEDs to indicate charging and battery status
Temperature sensor for automatic compensation (-30mV/C/12V) operating between -30°C and +60°C
Dead battery recovery minimum voltage: 1V
Self-consumption: < 8mA
Working temperature: -40°C to +60°C
Humidity: 100% non-condensing
Enclosure: IP10 (indoor)
Size: 152 x 55 x 32 mm
Weight: 230 g
Mounting holes for ease of installation
The product is covered by 5 year manufacturer warranty. For more information please refer to our Terms and Conditions.
The product comes with an instruction manual (see the 'Documents' tab for a download link) which explains connections and operations.
If you need help with installation or have any technical questions we can provide FREE support - please contact us by email or phone (see Contact Us page for more information).