TELL A FRIEND ABOUT THIS PRODUCT
Testimonials:
Fantastic communication, 2nd to none customer service! Will use again!!! A****
Richard (Gloucester, Gloucestershire, UK) - Jan 2015
We are a trusted supplier to thousands of UK clients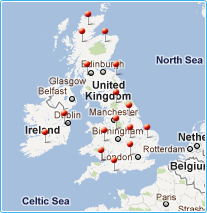 Solar Cable
Pair of 5m single core extension cable leads 4.0mm for solar panels and solar charging kits
Phone order?
Call our number
0203 150 1111
and quote the product code below
(have your card and delivery details ready)
Working hours Mon-Fri 9am-6pm
This pair of single core solar extension cables is specially designed for solar panels to carry high current and have negligible power loss. It comes with waterproof MC4 connectors ("male" on one lead, "female" on the other lead) which can be easily connected to similar MC4-type connectors coming with most solar panels, including Photonic Universe solar panels.
This cable is suitable for all weather conditions including cold and hot temperatures.
4.0mm cross section is usually enough for off-grid 12V solar panels and systems up to 160W, or on-grid panels (typical voltage 30-60V) with higher power rating.
Cable specifications:
Conductor: tinned copper
Cross section: 4.0mm
Conductor resistance: 5.09 Ohm/km (20C)
Insulation and Jacket: 120C XLPE
Working temperature range: -40C to +120C
Certification: TUV
Outer diameter: 6.1mm