Didn't find products you were looking for?
Tell us about them! We might have these products in stock, but not on the website, or may be we are planning to restock them soon.
Testimonials:
Excellent British product. Just the job for our caravan at shows & festivals
Alma (Dyffryn Ardudwy, Wales, UK) - July 2017
We are a trusted supplier to thousands of UK clients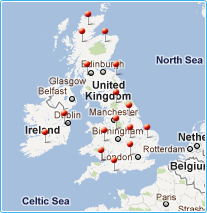 Articles
02.01.2014, 09:30
Introduction to back-contact solar cells
Solar cells are the key component in crystalline solar modules as they are the element which converts sunlight into electricity. All other parts which form a solar panel - aluminium frame, glass, encapsulant, plastic back sheet, - perform a secondary function, just to protect solar cells from weather conditions and prevent contact with gases in the air, to make sure solar cells work for decades. So parameters of electricity generated by a solar panel, as well as efficiency of the panel, are largely determined by solar cells used in this panel.
Solar cells transmit electricity via contacts and metal bars printed on their front and back side, positive on one side and negative on the other. While back side of a solar cell can be fully covered by a metal layer, the front side typically has very thin metal bars, to make sure that shading of the solar cell is minimal. But even though the contacts are thin, they can reduce efficiency and performance of a solar cell significantly as the area exposed to sunlight is reduced. Below you can find a photo of a typical front-plus-back contact solar cell (built into a solar panel with aluminium frame) with front contacts and metal bars printed on the solar cell.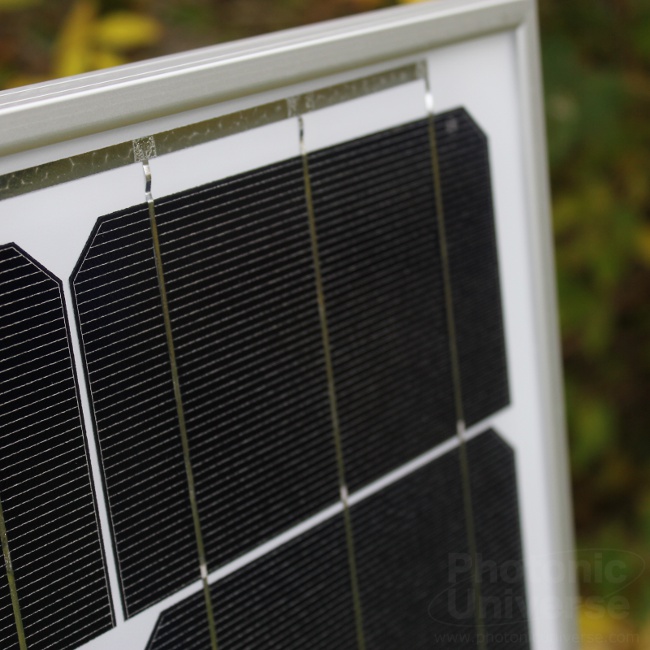 Up until recently all commercially produced crystalline solar cells had this design with front contacts and metal bars transmitting electricity. However, thanks to recent technological developments, there has been a newcomer to the global solar market: back-contact only solar cells. In these solar cells, both positive and negative contacts are printed at the back side, which exposes 100% of the solar cell area to light, bringing solar cell efficiency up. Below you can find a photo of such solar cells built into a solar module with aluminium frame.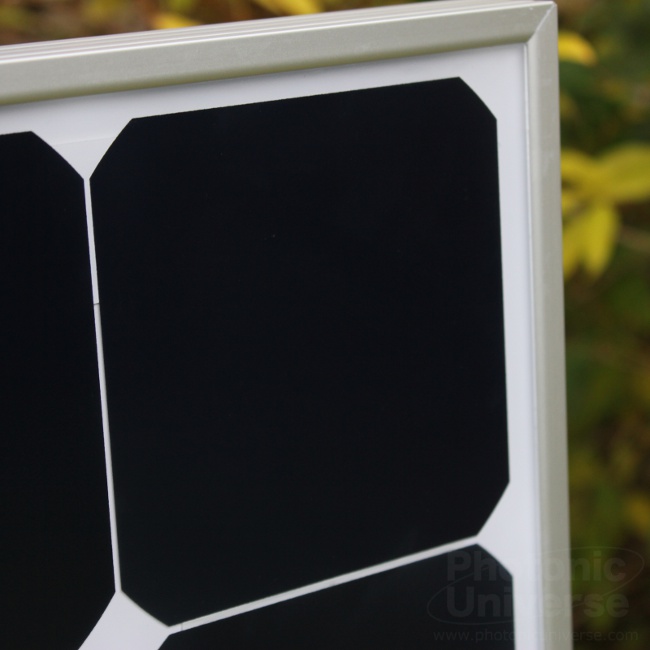 The main benefit of the new back-contact solar cells is efficiency increase. Coupled with more advanced manufacturing technology, the new back-contact solar cell design allows to bring efficiency up from 16%-18% for standard solar cells to unparalleled 20%-25% for back contact solar cells. This in turn increases efficiency of solar panels made of back-contact solar cells and reduces their size. For example, a 100W solar panel made of standard front-and-back contact solar cells from a leading German manufacturer has the size 107 x 67 cm, so it takes an area of approximately 0.717 m2. In contrast, a similar 100W solar panel made of back-contact solar cells has dimensions 105 x 54 cm and takes an area 0.567 m2 - so this solar panel requires 20% less space than a standard solar panel.
Currently solar panels made of back-contact solar cells hold the world record in efficiency among all commercially produced solar panels. They are the only choice for applications where the task is to extract the maximum amount of power from the minimum available space. These solar panels are ideal for off-grid applications such as motorhomes, caravans, campers, boats and yachts (as space on the roof is often limited). High efficiency makes them perfect for standalone solar systems, for example, solar lighting systems, back up solar systems, water pumps / irrigation systems and complete household solar systems. These panels can also be used for grid tie systems on roofs of houses, commercial buildings and also ground-mounted.
At Photonic Universe we are proud to add solar panels made of back-contact solar cells to our product range, for the benefits of our UK and international customers.
© Photonic Universe Ltd, 2014