TELL A FRIEND ABOUT THIS PRODUCT
Testimonials:
Est. delivery: 29 Dec. Delivered 24 Dec - unbelievable! Impressed with seller!
Anthony (Liverpool, Merseyside, UK) - Dec 2014
We are a trusted supplier to thousands of UK clients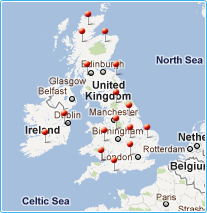 Extra large solar panels > 180W
360W Black LG NeON® H monocrystalline solar panel with half-cut Technology
Phone order?
Call our number
0203 150 1111
and quote the product code below
(have your card and delivery details ready)
Working hours Mon-Fri 9am-6pm
This high-quality 360W black solar panel is the best-selling solar module from world-leading solar manufacturer LG Solar, part of global company LG Electronics and winner of the Intersolar and Top Brand PV industry awards. This MCS certified panel is perfect for a wide variety of applications, from grid-tie household systems to off-grid installations where mains power is limited or unavailable.
Half-cut Technology
This solar panel is equipped with half-cut technology; this essentially means that the typical full cells in standard solar panels are cut into 2 equal halves. The half-cut cell construction increases power and efficiency, decreases internal losses, reduces risk of hotspots and improves performance in shaded conditions.
Robust Construction
Fully waterproof and designed for strong performance in a wide range of environments, this robust panel continues to perform well even in high temperatures or low irradiance – up to 30% more power than similar panels under high temperature conditions. The panel is rated for a load of up to 5,400Pa from the front, which is greater than the force applied by hurricane-strength winds, and a rear load of 4,000Pa.
Superior Performance Warranty
Both the output and workmanship of the panel are guaranteed for an industry-leading 25 years. The linear performance warranty guarantees a loss of no more than 0.45% of the panel output per year after the first year, and no less than 87.2% power production in the 25th year; 5-10% higher than other solar cell manufacturers. You can be sure of a long service life from this highly robust solar panel.
Click on the Details and Specifications tab for more information.
Specifications:
Peak power: 360W
Maximum power voltage: 34.3V
Maximum power current: 10.51A
Open circuit voltage: 41.0V
Short circuit current: 11.03A
Power tolerance: 0 ~ +3%
Dimensions: 1768 x 1042 x 40 mm
Weight: 18.5 kg
Mounting holes for ease of installation
2x 1.2m of high-quality single core solar cable
Male and female MC4 waterproof connectors
The product is covered by a 25 year workmanship warranty provided by LG Solar. In addition, solar cells are guaranteed to produce at least 98% of nominal power in the first year after purchase and less than 0.45% degradation of nominal power each year after until 25 years after purchase, for a minimum of 87.2%.
Full warranty documentation can be found in the Documents tab. For more information please refer to our Terms and Conditions.
Please note: if the application of this solar panel is to charge batteries, it is essential that this solar panel is used with a suitable solar charge controller. We recommend the following types of solar charge controllers:
For 12V batteries, a high efficiency MPPT solar charge controller rated at 30A or higher
For 24V batteries, a high efficiency MPPT / or standard PWM solar charge controller rated at 20A or higher
If you need help with installation or have any technical questions we can provide FREE support - please contact us by email or phone (see Contact Us page for more information).