TELL A FRIEND ABOUT THIS PRODUCT
Testimonials:
Awesome 250W solar kit. Easy to fit, excellent instructions & advice via phone .
Lez (Dunstable, Bedfordshire, UK) - Feb 2016
We are a trusted supplier to thousands of UK clients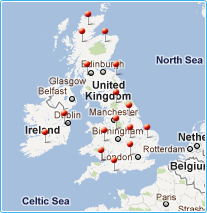 DC to DC Battery Chargers
25A 24V DC to 12V DC automatic multi-stage intelligent battery-to-battery charger
Phone order?
Call our number
0203 150 1111
and quote the product code below
(have your card and delivery details ready)
Working hours Mon-Fri 9am-6pm
We are proud to offer this 25A DC-to-DC battery charger, from the leading German solar electronics manufacturer, Votronic. German design, engineering and manufacturing ensure unrivalled quality and reliability.
Function:
This intelligent battery charger is designed to automatically charge one 12V battery / battery bank from another 24V battery / battery bank with its own energy source. For example, if one 24V battery / bank is being regularly charged by solar / mains/ alternator, this 25A DC-to-DC battery charger can pull energy from this battery bank to charge a second 12V target battery or battery bank. The target 12V battery / bank will be charged at a maximum of 25A, using an intelligent multi-stage approach with full overcharge protection.
This battery to battery charger can be easily integrated or retrofitted into any system, allowing the user to transform a single battery system into a dual battery charging system. For example, in a vehicle or boat this charger can take energy from the engine starter battery (which is constantly topped up by the alternator) to charge a leisure or auxiliary battery / bank.
In a solar charging system, the charger allows easy conversion from a single battery solar charging kit to a dual battery charging kit, without the need to upgrade the single battery solar charge controller to a dual battery model. This is perfect for systems with a high solar input, where a capable dual battery solar charge controller is expensive or difficult to procure.
Key features:
Safe unattended charging: the unit features inbuilt safety functions (protection against overload, overheating, overvoltage, short circuit, incorrect polarization and reverse discharge of the battery), which allow the charger to be left permanently connected to the source battery for unattended automatic charging. Unlike many other DC-to-DC chargers, the charging voltage is also controlled and free from peaks which offers smooth uninterrupted charging.

Continued charging during battery/load use: the charger will continue to operate at full power whilst energy is drawn from the battery during use. The unit will maintain the charge if the battery is already at full capacity. Any 12V loads may also be left permanently connected and running whilst the DC-to-DC charger is in operation, and will be protected against overvoltage and voltage fluctuations.

Automatic charging control - to prevent the 24V source battery / bank from becoming excessively drained (e.g. lack of charging from the alternator following a long stationary period) the charger will automatically recognise low voltage of the source battery, and will transfer power to the 12V target battery at a reduced rate. Likewise, if a powerful load is running from the 24V source battery (e.g. air conditioning), the charger will scale down the charging capacity to allow the source battery to recover. Full power charging will resume once the source battery reaches an acceptable voltage range.

Compatible with other charging sources: thanks to the inbuilt suppression filter, the batteries may be charged from alternative power sources, for example solar panels / alternator / generator etc., whilst remaining connected to the battery charger.

Dead battery recovery function: for optimum charging of completely drained lead-acid batteries, the charger offers a gentle preliminary charging stage, followed by a more powerful charging stage.

Vehicle battery optimisation: specifically designed with efficient vehicle battery charging in mind. Unlike other chargers (or split charge relays) which do not instantly charge the battery at full current whilst driving and do not provide overcharge protection, this unit will automatically charge at full power, even during short journeys, with full protection from overcharging the target battery. This charger is also well suited to vehicles of Euro 6 emission standard and above, as it prevents the reduced or intermittent charging associated with smart alternators in these vehicles.

System upgrade potential: this unit may be connected in parallel to an identical model in order to boost the charging capacity of the system. This is an ideal option for large battery systems, or those with powerful appliances running directly from the batteries. A second unit may be added at any time for future system expansion.
Additional features:
This charger also features LED indicators to show target battery charging status, various charging stages, charging current (with varying intensity, depending on current supplied), and starter battery status. This unit also features an internal fan to prevent overheating.
Compatibility:
This DC-to-DC battery charger is suitable for use with any 12V and 24V lead acid batteries, with a capacity of 50Ah or greater. It can not be used to charge 24V batteries from a 12V or 24V battery bank.
Click on the 'Details and Specifications' tab for more information about this product.
Source battery specifications:
Nominal operating voltage: 24V
Min battery capacity: 50Ah
Battery type: any 24V lead acid battery (e.g. AGM, Gel)
Power consumption (max): 450 W
Overvoltage disconnect: 32.2V
Target battery specifications:
Nominal operating voltage: 12V
Battery type: any 12V lead acid battery (e.g. AGM, Gel)
Min battery capcity: 50Ah
Recommended battery capcity: 50-170 Ah
Max battery capacity: 220Ah
Charging current: 0-25A
Overvoltage disconnect: 15.5V
General:
Temperature range: -20 to +45 C
Ambient conditions, humidity: max. 95% RH, no condensation
Dimensions: 245 x 160 x 71 mm
Weight: 1.35 kg
This product is covered by a 2 year manufacturer warranty. For more information please refer to our Terms and Conditions.
This DC to DC battery charger should be installed between the source 24V and the target 12V batteries. Full details explaining wiring and operations can be found in the user manual supplied with this product (see Documents tab to view).
If you need help with installation or have any technical questions we can provide FREE support - please contact us by email or phone (see Contact Us page for more information).